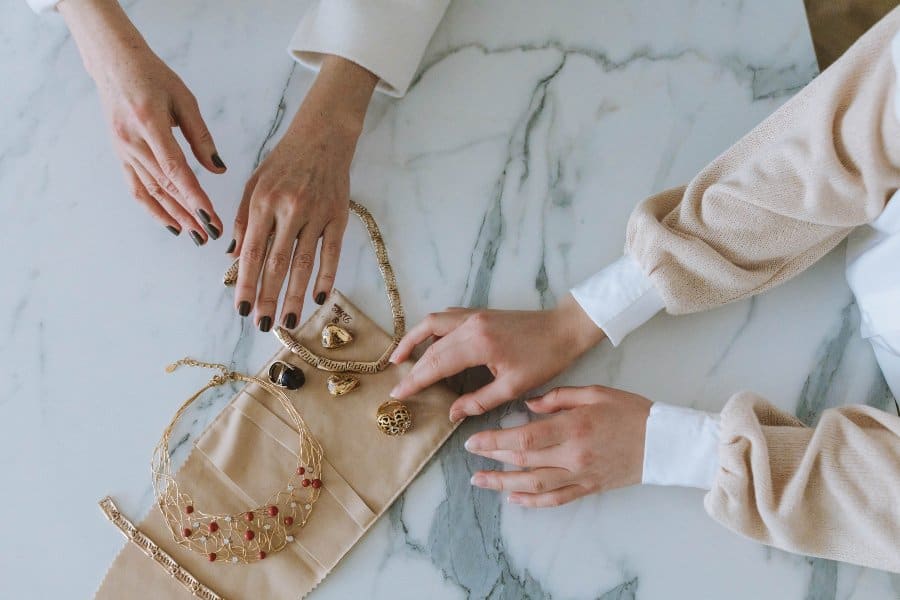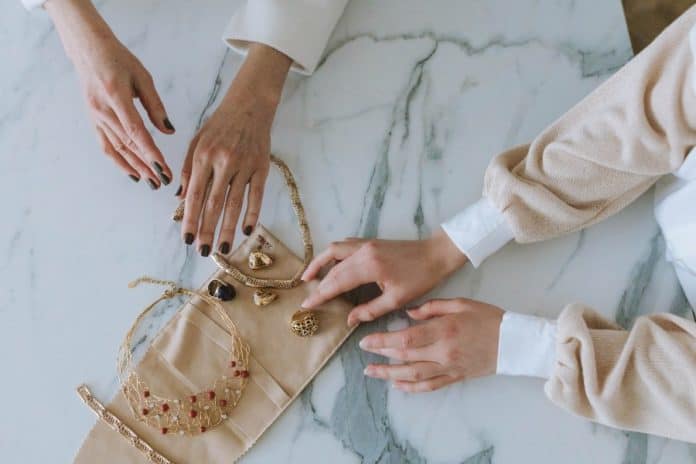 As time goes on, styles change and adapt. What was once a trend might not stay that way forever. And the jewelry world is no exception to this dynamic. The vintage jewelry industry constantly evolves and moves, often leaving the old gems and settings behind.
Some jewelry lovers and collectors may consider selling their old jewels. This approach could be your first option since most companies offer a free gem appraisal. Fortunately, you can still keep your precious baubles and try your creativity at some fun, new designs.
Without further ado, here are a few fantastic tips for repurposing your vintage jewelry to shine again while helping you stretch your budget.
1. Make A Statement Focal Ring
Do you have a gemstone that's just sitting pretty in your jewelry box, waiting for the right moment to dazzle? If you love wearing rings, this idea might be just the right thing for you. This approach could be a perfect combination for your beautiful nail polish shade.
All you have to do is put your precious stone in the center of an open ring, and it'll create an instant focal point. Or, if you want to make the piece more three-dimensional, add a few smaller gems around the center stone. Depending on the type of jewel you have and the color and size of your treasures, this design will help you bring out the best in it.
Additionally, if you're thinking about a great gift idea for a loved one, a focal ring could be the perfect option. It's an affordable and penny-wise choice that doesn't compromise on elegance or beauty. Above all, you'll be giving them something sentimental without breaking the bank.
2. Be Creative With Stones Out Of Necklaces
Many vintage necklaces have stones that have fallen out over time. Rather than leaving it in a drawer to collect dust, why not try putting your old jewelry to good use? Take those stones and turn them into something else.
You can use them as gift decorations, so you won't have to spend money on fancy paper confetti or glass vases. Or turn them into magnets to use at home or office for holding memos, pictures, or just about anything else. You can also make your own garden markers using broken pieces of vintage jewelry stones.
You may not realize it, but repurposing precious stones from those old necklaces can be a straightforward and budget-friendly approach to be artistic. Instead of setting aside your vintage jewels, reuse them in a fun and crafty way.
3. Turn Broken Bracelets Into Hairbands
Vintage bracelets have a lot of potentials. However, sometimes they break and become unusable. Fortunately, you can turn those broken pieces into useful accessories. Hair ties or headbands are just a few examples. With a little bit of effort, you can create custom hair ties or headbands to use for a casual, boho-chic hairstyle.
Aside from that, you can also turn them into simple cuffs that you can wear on your wrists or ankles. Cut a strip from your broken bracelet and strong adhesive to secure the ends of the strip together. It's an instant fashion statement at half the price.
Giving new life to your vintage jewelry isn't just a way to amend broken pieces; it's also an excellent opportunity to be practical. That means you don't have to spend a fortune on new accessories or go shopping to change your look.
4. Bag Decoration
Are you a bag lady who can't leave the house without your everyday accessory? Why not experiment with the valuable gemstones you already have to truly express your style?
Like any items you have, bags will eventually lose their charm. However, rather than investing in a brand new one, make your current bag pop with a few vintage-bling accents. Brooches, opals, sequins, clips, lockets-they're all waiting to be transformed.
Decorating your bag doesn't mean you have to go all out and make it look like a disco ball or something. A few subtle accents here and there will do a good job. For a fun, playful touch, you can play around with different colors of gems. Or, if you prefer a more glamorous look, silver and gold hoops with pearls will do wonders.
Remember that this is a simple way to repurpose your vintage jewels, so you don't have to overdo them. You can quickly transform your bag into something special with elusive yet eye-catching features.
5. Create A Jewelry Vintage Artwork
Aside from being worn on your body, you can also use these gems as unique art pieces. Just collect similar jewels and arrange them next to each other on a canvas. You can experiment with different shapes, designs, and sizes. Or you can create a symmetrical pattern and keep it as such.
Whether you're making a custom jewelry display or want something more tailored to your specific needs, this cost-effective approach is easy to pull off.
The great thing about this art project is you don't have to be an artistic genius to design something beautiful. The key here is in the composition of your jewelry and the various textures it brings. Don't just let your vintage jewelry sit in a box; give it a new purpose.
Takeaway
Vintage jewelry can be a significant investment. However, these pieces will age sooner or later, and the sparkle starts to fade. Repurposing them is a thrifty way to get the most out of your money. You have many options to experiment with, from hair accessories to art pieces and bag embellishments. This approach is both easy-to-do and economical without sacrificing your sense of style.