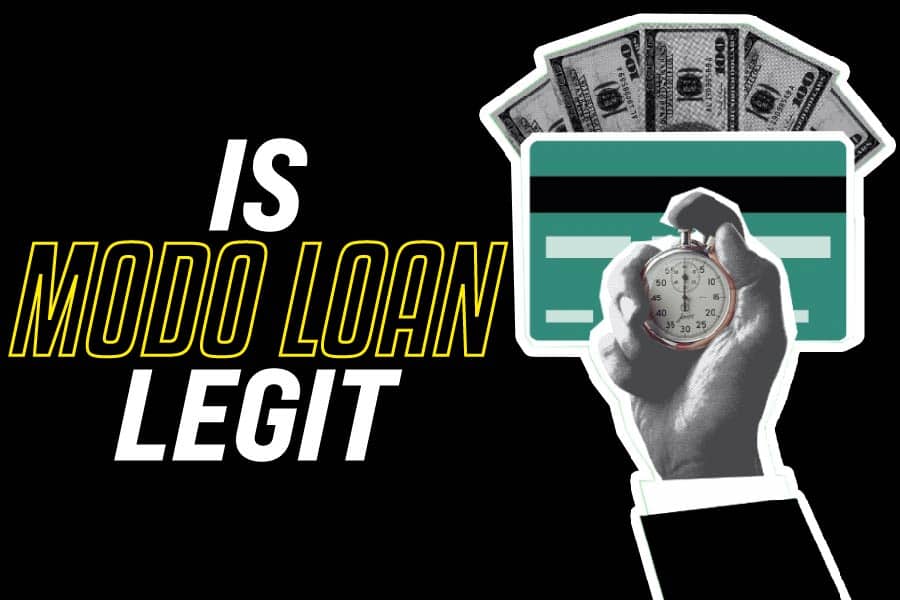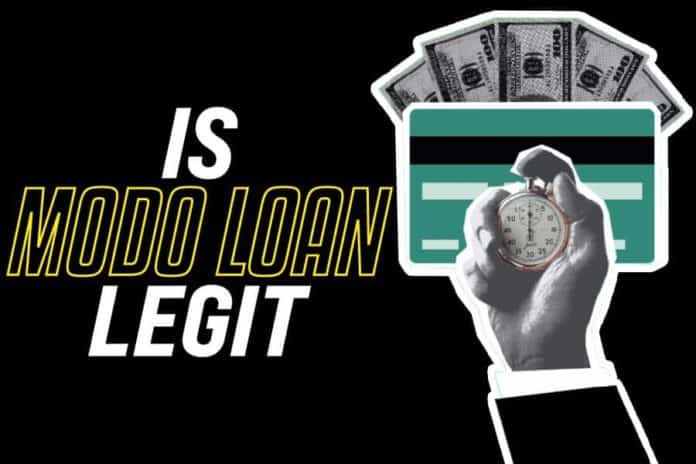 Loans can be helpful at times. You can take a quick loan to settle bills and meet urgent financial needs.
However, being able to secure a loan is not all that matters. The loaner's credibility and reputation also count.
You'll notice that the number of platforms issuing loans have skyrocketed over the years. Thus, identifying a legit loan outfit has become quite a chore.
Many of these institutions offer mouthwatering rates that can easily lure loan-seeking customers. But if you fall into the wrong hands, you might regret ever asking for a loan.
Modo Loan has been around for quite a while, but the question is, are they genuine? In this article, we'll share information about Modo Loan and let you know if they're legit or not.
Is Modo Loan legit?
Yes, Modo Loan is legit. They have been in operation for quite a while now.
Modo Loan is not a lender. Thus, they don't offer loans to individuals seeking personal loans. Instead, they link loan seekers to interested lenders.
So, let no one deceive you. Modo Loan doesn't offer loans, as their name suggests. They don't get involved in the loan collection process and don't know the agreement loan seekers enter with the lenders.
The company's only mission is to link loan seekers to lenders in return for some commission. Modo Loan doesn't charge loan seekers. They only depend on commission from lenders.
On the Modo Loan website, you'll find information detailing how loan seekers can avoid loan scams. No company with fraudulent intent will provide detailed information on how to spot a loan scam.
Nevertheless, you have to examine the lenders carefully and know how to identify fraudulent ones. Modo Loan boasts that it only links loan seekers to legit lenders. But that doesn't mean you should not do your homework.
You have to be vigilant and assess every lender you're dealing with before agreeing to their terms. If you are not comfortable with a lender's terms and conditions, walk away.
How Does Modo Loan Work?
The first move a loan seeker interested in using Modo Loan needs to make is to know how the platform works. When you understand how something works, it would be hard for anyone to play a fast one on you.
By now, you must have realized that Modo Loan is not a lending platform. They link interested loan seekers with lenders who are willing to help.
So, any agreement you have with the lender doesn't concern Modo Loan. The loan payment procedure also doesn't involve Modo Loan.
Most people prefer using Modo Loan because they have a broad list of lenders. Lenders may also consider loan seekers' loan requests faster if the request is from Modo Loan.
So, how does Modo Loan operate? Let's explain that in detail.
Step#1: Learn about your eligibility:
Are you eligible for Modo Loan? That's the first thing you need to find out. Being in urgent financial need doesn't make a loan seeker eligible. Your eligibility is based on several criteria.
Firstly, Modo Loan applicants must be over 18 years of age. You must also have a permanent address and, of course, have proof of address.
The loan applicant must also have a checking account and have a regular source of income.
If you don't meet these requirements, forget about applying for a quick loan via Modo Loan. As much as the company wants to profit by acquiring more leads for lenders, they also have a reputation to protect.
So, if you're eligible to apply for a quick personal loan via Modo Loan, proceed to the next step.
Step#2: Initiate online loan request:
You have to decide the amount you want to lend and the payment duration. Remember that you can borrow from $200 to $3000. It all depends on the amount the lender is comfortable offering you.
Modo Loan's payment duration ranges from 3 to 24 months. However, the final agreement on payment duration rests on the lender, not Modo Loan.
So, choose the amount you want, including how long you're going to pay back the loan.
Step#3: Answer the question on checking account:
One of the eligibility criteria to get a loan via Modo Loan is a checking account. If you don't have this, you can't get a loan.
So, if you have a checking account, click "yes" and proceed to the next step.
Step#4: Provide your personal information:
You have to provide your details when applying for a loan via Modo Loan. These include your name, date of birth, mobile phone number, work phone number, social security number, email, and driver's license number.
Step#5: Provide information about your income:
One of the requirements to apply for a loan via Modo Loan is to have a regular source of income. No lender is ready to offer a loan to someone who doesn't have a job or business that ensures a steady income.
No offense, but issuing a loan to someone who doesn't have a job is a huge risk. There's a huge chance that the individual might not repay the loan or may give the lender a tough time during repayment.
So, Modo Loan is interested in knowing more about your income. They want to be certain that you can pay back the loan.
At this stage, you'll find questions on your employment type. Are you self-employed, full-time, part-time, employed temporarily, disability benefits, unemployment benefits, or a pensioner? Modo Loan wants you to state it.
The other information you'll find on this page is about the loan repayment method you prefer. Is it by check or direct deposit? Choose the method most convenient for you.
Next is how frequently you want to repay your loans. Is it weekly, bi-weekly, twice monthly, or monthly? Choose one. Then state your net-monthly payment amount.
Step#6: Give your address details:
Where in the U.S. do you reside? State it in your Modo Loan application. They need you to provide a street address, city, county, state, and zip code.
You also have to state how long you have resided at your proposed address, including your residential status. Are you a homeowner or renter?
Step#7: Provide your bank information:
The three basic bank information that Modo Loan require are your bank name, checking account number, and how long you have been with the bank.
Step#8: Accept terms and conditions:
Your decision to apply for a loan via Modo Loan is a choice. You can decide to back down at any time. But please, do so before you sign an agreement with the lender.
The final step is accepting the terms and conditions. We urge you to read this section thoroughly before accepting. Step back if you're not comfortable with any of the terms and conditions listed by Modo Loan.
Once you accept the terms and conditions, Modo Loan will match you to a lender that might be willing to listen to your loan request.
Do You Need To Register On Modo Loan To Find A Lender?
No, you don't. Just visit the platform and provide the needed information to enable them to link you to a lender.
Once you submit your data, Modo Loan will run a data check on the information provided and match you to a lender. If they cannot verify your information, they won't link you to a lender.
4 Things That Proves Modo Loan Is legit
Identifying a scam website is not such a difficult thing. You can identify a scam lender or platform that links loan seekers to lenders like Modo Loan if you're observant enough.
We believe Modo Loan is legit, as several signs indicate they're legitimate. Let's discuss those signs.
#1: Loan seekers don't pay a dime:
Modo Loan won't request payment to match you to a lender. They do it free for loan seekers.
#2: Comprehensive tips on loan scams:
One thing scammers can't do is divulge their secrets. They only do so when caught by the authorities.
Modo Loan isn't a scam platform, and their tips on identifying loan scams prove that.
They even go as far as warning loan seekers to avoid lenders that request payment in advance before offering a loan.
#3: Professional-looking website:
Most scammers put up professional-looking and highly attractive websites online. But what sets Modo Loan apart is how their website is organized.
You can apply for a loan via Modo Loan within a few minutes. They also verify information provided by loan seekers. If any of your information is incorrect, they won't match you to a lender.
#4: Positive reviews:
Reviews have prevented many individuals from falling into the hands of scammers. You can determine a fraudulent loan platform via review.
Interestingly, many sites have started dedicating their time to identifying and calling out fraudulent platforms. You can check them online to know if a business you're dealing with is legit or not before making any commitment.
On Scam Adviser, Modo Loan was confirmed highly likely to be legit. And the loan platform's trust rating was high.
Conclusion
Is Modo Loan legit? Yes, they are a legitimate business. However, Modo Loan isn't a lender. Their mode of operating is to link loan seekers to lenders.
Modo Loan doesn't request any fee from loan seekers. They only charge lenders when a deal is completed. You can apply for a loan via Modo Loan, but always be vigilant.
Read the platform and lender's terms and conditions before putting pen to paper. Don't accept an offer you're not comfortable with.