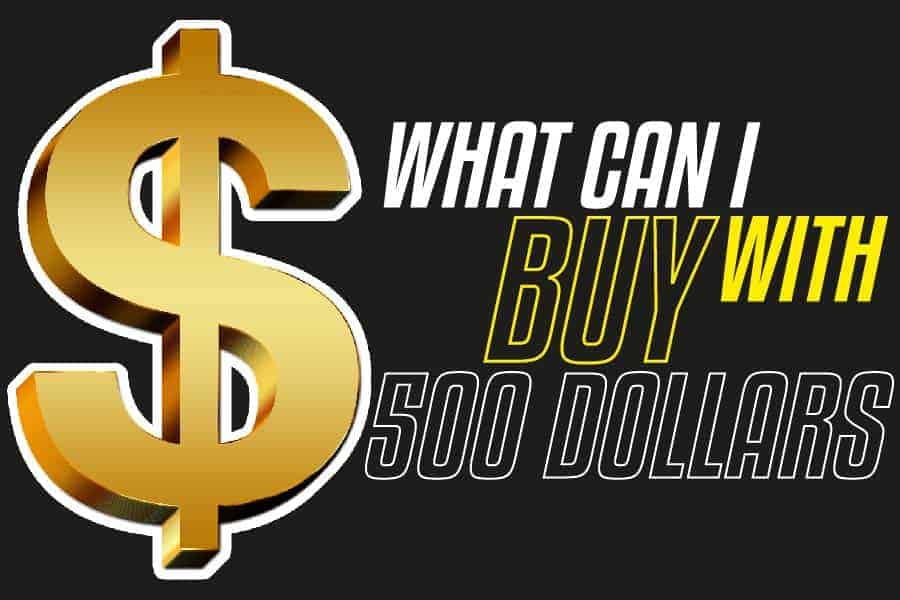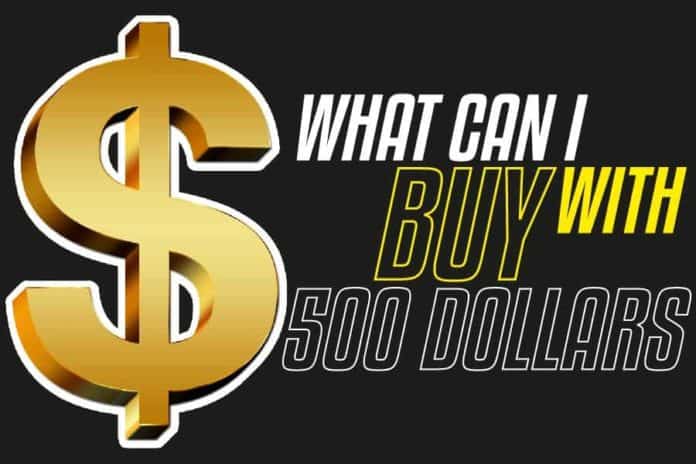 The price of several items has skyrocketed over the years. But that doesn't mean you cannot purchase something tangible with 500 dollars. You can!
Just create a list of things you are interested in and choose the one you prefer the most. That way, you won't regret spending your money.
You can purchase several items with a meager $500. But if you're running low on ideas of things to buy with your money, check out the list below.
What Can I Buy With 500 Dollars?
Please note that the list of things you can purchase with 500 dollars includes investment opportunities and physical products. Now let's discuss what you can do with that cash.
#1: Get Life Insurance:
Most people might not consider this a good idea. Why? No one would wish death upon themselves. But the reality is death is inevitable.
Additionally, no one knows when it might happen. So, if you have a family that depends entirely on you for their financial needs, getting a life insurance policy would be a smart decision.
Prices for term life insurance policies differ. But if you're healthy and in your 30s, you can acquire a 500,000 dollar worth of life insurance for 500 dollars or less, annually.
What's more, your beneficiaries would receive the full benefits. In other words, they won't have to pay tax.
So, if you have $500 and thinking of something reasonable to spend it on, getting life insurance would be a wise idea. Your family won't suffer financially in your absence.
#2: FEZIBOL Dual Motor L Shaped Electric Standing Desk
Are you a gamer, work-at-home parent, or YouTuber? Or, let's say you spend a lot of time behind the desk at home.
If that's the case, you need a comfortable desk. It should be something spacious, adjustable and sturdy.
The FEZIBOL Electric Standing Desk is a well-constructed and comfortable desk.
You can even adjust the desk's height from 27.6 inches to 46.3 inches. And what's more, the frame is made of steel, making it more reliable.
This desk can handle approximately 176 pounds of weight. And it is spacious enough to carry all your working equipment or gaming gadgets.
So, if you want to boost productivity, gaming experience or navigate your sedentary lifestyle with ease, the FEZIBOL L-Shaped Standing Desk is a wise choice. You can also offer it as a gift to close friends and relatives.
#3: Bose QuietComfort 35 Wireless Bluetooth Headphone
If you're a music lover, Bose QuietComfort 35 will take your love for music to another level. This headphone's wireless feature isn't the only thing that sets it apart.
It delivers a premium-quality sound and shuts out background noise. It's the kind of headphones avid gamers or music producers would cherish.
So, if you happen to be a musician, DJ, music lover, or gamer that cares so much about sound quality, splashing the cash on the Bose QuietComfort 35 won't be a bad idea.
This headphone's ergonomic design makes it a wise choice for extended use. It just fits snugly on the ear and delivers a balanced sound that will blow your mind away.
#4: Acoustic Headless Foldable Electric Guitar:
The best way to learn a musical instrument such as a guitar is to practice consistently. Regular practice will also help you to learn fast and perfect your skills.
This Acoustic Headless Foldable Electric Guitar offers such an advantage. It's a breeze to transport. Thus, you can play your guitar wherever and whenever you desire.
So, if you were interested in learning how to play the guitar and hope to become a pro in no time, spending 500 dollars or less on this foldable acoustic guitar would make sense.
#5: Obtain a certificate:
If you're a 9 to 5 worker, there's nothing wrong with splashing $500 to upgrade your CV. Getting a new certificate prepares you for a pay rise or a promotion. Therefore, take every appointment to obtain higher certification that comes your way.
Several universities and community colleges offer top-rated certificate programs. So, go online or visit them in person to make inquiries.
You can even ask your human resource manager for suggestions on what certificate you should pursue. And ask professionals in your field for advice.
So, get a new certificate to better your life. You can present the certificate whenever your supervisor kick-starts a review.
#6: Automatic Smart Dog Dryer:
Every pet owner would agree that bathing a pet is a chore. Most people enjoy such tasks when they have more free time to spare daily.
But if time isn't always on your side, you may want to skip bathing your pet sometimes. It might happen intentionally or unintentionally.
How can you ensure you bathe your canine friend as often as you should? This Automatic Smart Dog Dryer is one of the machines that can help make it possible.
This smart dog dryer makes bath time a breeze for pet owners and pets. Just get your dog into the box after bathing it. The dryer would do the rest.
So, if you care about your pet so much, prove that by splashing 500 dollars on this dog dryer. Don't forget that a neat dog is a healthy dog.
#7: Smart Electric Scooter:
This feature-rich electric scooter will make you want to get out of your home every day. It doesn't only look dazzling on the outside. It also boasts an LED light and display that appears so colorful.
This Smart Electric Scooter comes with a remote control, making it a breeze to use. You can use the control for acceleration, move backward or forward, and even apply brakes.
#8: A laptop or PC:
You can generate more money or have more fun by splashing your 500 dollars on a cheap brand new PC or laptop. How? With a computer, you can work at home and even make a living doing so.
Tons of freelance platforms you can join and start making money working from home are available. You can even become an affiliate marketer or learn other digital marketing skills with a laptop.
On the other hand, 500 dollars can get you a PC suitable for gaming. You can even upgrade your PC whenever you have more cash to spare.
#9: Buy a pet:
Pets, such as dogs and cats, make good companions. So if you don't have trouble keeping pets, use your 500 dollars to acquire one. Buy a puppy, if you prefer dogs, and nurture it to maturity.
However, please note that caring for a pet requires money. You have to purchase feeds, medication, and vet visitation.
#10: A treadmill:
Staying fit is very vital. Obesity predisposes people to life-threatening ailments.
Running, jogging, walking, and climbing can help you stay fit. But the truth is, most people find it hard to come out of their homes to exercise. Some feel ashamed about their shape or look.
If you have a treadmill, you don't have to step out of your house to jog, run, or walk. You can perform all of these indoors. You can even increase the treadmill's speed levels to make each workout session intense.
So, if you have an interest in keeping fit, consider splashing the cash on a treadmill. You can even consider getting other workout equipment alongside your treadmill whenever you're financially buoyant.
Conclusion
What can I buy with 500 dollars? You can purchase numerous things with it. You can buy a pet, smart dog dryer, electric scooter, life insurance, laptop or PC, etc.
Just weigh your options before spending your money. And endeavor to spend your money on something that will be most satisfying to you.
However, if 500 dollars is the only cash you would ever see in a month or a while, consider spending it on something that will bring instant returns. You can use a laptop for freelancing and other related jobs to earn a living or make extra money on the side.