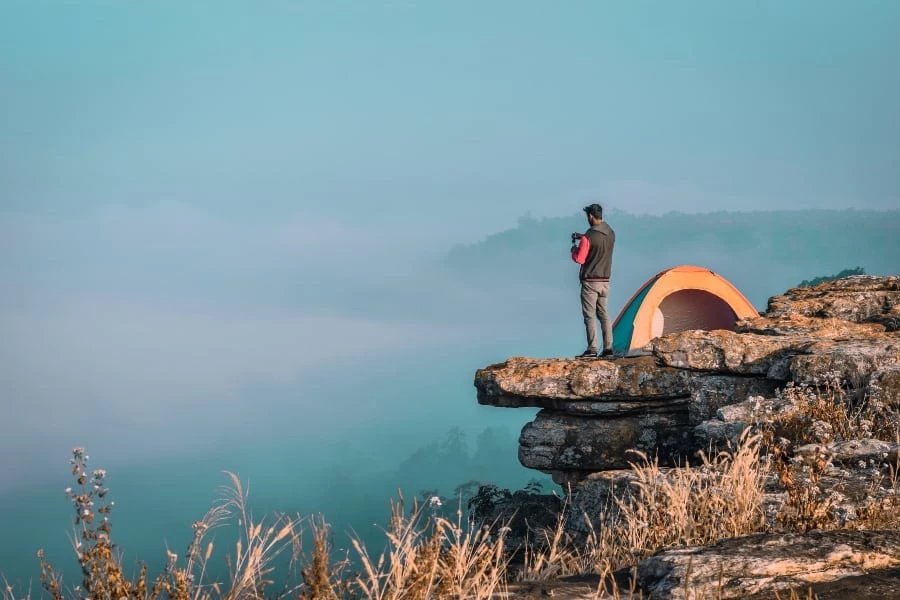 As we emerge from the COVID-19 pandemic, many people are eager to resume traveling. Solo travel has become an increasingly popular phenomenon. What makes traveling alone so appealing, and how might this trend impact travel or hotel stocks?
A Holiday For The Soul
Two years of COVID restrictions kept us stuck at home and glued to our screens for work and socialization. Many people are now eager to get out there and see the world once again. Whether you were sick or not, you could probably use the mental health recharge a vacation can provide. You may have spent time thinking about where you'd like to travel and who you'll take with you. But what if the person you'd most like to travel with is yourself? While solo travel is not a new phenomenon, the pandemic has opened up more people to the idea of exploring the world on their own. Those who swear by solo vacations insist they are the ultimate way to relax and rejuvenate.
There are lots of benefits to a solo trip. Have you ever argued with your travel partner about how to make use of your time? Who hasn't? Everyone has their own unique vacationing style and travel personality. When you travel alone, you don't have to answer to anyone. If you choose to sleep in, relax with a book, people-watch for hours, or wake up at the crack of dawn for a hike, you won't need to clear your plans with any travel companions.
After being cooped up with family, some of us just need to get away from it all without anyone else cramping our style. Many people find it very freeing to do whatever they want on vacation. Traveling alone provides a welcome break from the mundane, letting you get in touch with yourself and melt away the stress of the past two years. When you flex your independence muscles on a trip, you often get to see and do things you didn't anticipate. Imagine the joy of meandering through unfamiliar streets at your own pace. When you're not bound to someone else's schedule, you're free to be spontaneous and engage your senses.
Alone But Not Lonely
Traveling alone doesn't have to be a solitary experience. When you go solo, you may be more sociable, making it easier to chat with the locals and make new friends. Some solo travelers choose getaways to wellness retreats, seminars, or singles cruises, where they can mix and mingle with like-minded travelers. Professionally-guided group tours can let you meet others while exploring a new locale. Solo travelers sometimes join volunteer missions or get their personal growth on with language lessons or cooking classes.
When you travel alone, you can enjoy scrimping or splurging on your own terms. Vacations can mean financial pressure to do – or not do – what your family or friends want to do. You alone choose your dining and entertainment options when you travel solo. The effect can be liberating.
In the past, solo travelers were sometimes forced to pay higher rates to get a hotel room or cruise cabin all to themselves, but this is often no longer the case. Travel vendors are often more flexible since the pandemic, and many have done away with the single supplement once standard for individual travelers. Post-COVID travel deals on flights, hotel stays, and cruises make a solo trip pleasantly affordable.
Have Laptop, Will Travel
During the pandemic, remote work and virtual business meetings became de rigeur. Flexibility in our professional life gained new respect. While most people travel to get away from it all, some prefer taking workcations. Also called bleisure trips, a blend of business and leisure, these are vacations where you work from your destination, either remotely or from another company location.
Travelers may also opt to add a few extra days to a planned business trip to take advantage of being in a new location. You can spend part of your day exploring or relaxing and still put in some work at night or on certain days of your trip. Workcations let you travel for longer periods or take a vacation even if you don't have enough paid time off.
Table For One
From a practical standpoint, traveling solo can involve less hassle. You'll pack luggage for one (or just a carry-on!), and you'll only have to worry about travel safety protocols for yourself. If you prefer to continue social distancing and avoid unnecessary exposure, solo travel makes it easier to steer clear of others.
Quarantine and lockdown normalized spending time with ourselves. We've become comfortable with solitude, which can be a good thing. The unique encounters you have on a solo trip and the lessons you learn about yourself will likely linger in your mind long after you return. For safety's sake, be sure someone knows where you are and how to reach you in an emergency. Female solo travelers may also want to take extra precautions when vacationing alone. And don't forget to bring your selfie stick so you can snap some vacation photos with yourself in them!
If you've been considering a solo adventure, there's no time like the present.
For current performance and holdings, please visit defianceetfs.com/CRUZ
important Disclosures:
Fund holdings and sector allocations are subject to change at any time and should not be considered recommendations to buy or sell any security.
The Funds' investment objectives, risks, charges, and expenses must be considered carefully before investing. The prospectus contain this and other important information about the investment company. Please read carefully before investing. A hard copy of the prospectuses can be requested by calling 833.333.9383.
Investing involves risk. Principal loss is possible. As an ETF, the fund may trade at a premium or discount to NAV. Shares of any ETF are bought and sold at market price (not NAV) and are not individually redeemed from the Fund. The Fund is not actively managed and would not sell a security due to current or projected under performance unless that security is removed from the Index or is required upon a reconstitution of the Index.
A portfolio concentrated in a single industry or country, may be subject to a higher degree of risk. Specifically, the Index (and as a result, the Fund) is expected to be concentrated in passenger airline, hotel and resort, and cruise industries ("Travel Companies"). Travel Company revenues are heavily influenced by the condition of the U.S. and foreign economies and may be adversely affected by a downturn in economic conditions that can result in decreased demand for leisure and business travel. Travel Companies may be significantly affected by uncertainty in travel, including guest safety, security and privacy, changes in labor relations and insurance costs, issues affecting equipment reliability and longevity, changes in fuel prices, and shortages of experienced personnel.
Beginning in the first quarter of 2020, financial markets in the United States and around the world experienced extreme volatility and severe losses due to the global pandemic caused by COVID19, a novel coronavirus. The pandemic has resulted in a wide range of social and economic disruptions, including closed borders and reduced or prohibited domestic or international travel. Some sectors of the economy and individual issuers, including Travel Companies, have experienced particularly large losses. Such disruptions may continue for an extended period of time or reoccur in the future to a similar or greater extent.
The Fund is considered to be non-diversified, so it may invest more of its assets in the securities of a single issuer or a smaller number of issuers. To the extent the Fund is invested in companies of a single country or region, local political and economic conditions and changes in regulatory, tax, or economic policy could significantly affect the market in that country and in surrounding or related countries and have a negative impact on the Fund's performance. Investments in foreign securities involve certain risks including risk of loss due to foreign currency fluctuations or to political or economic instability, and these risks are magnified in emerging markets. Small and mid-cap companies are subject to greater and more unpredictable price changes than securities of large-cap companies.
CRUZ is new with a limited operating history.
Total return represents changes to the NAV and accounts for distributions from the fund.
Median 30 Day Spread is a calculation of Fund's median bid-ask spread, expressed as a percentage rounded to the nearest hundredth, computed by: identifying the Fund's national best bid and national best offer as of the end of each 10 second interval during each trading day of the last 30 calendar days; dividing the difference between each such bid and offer by the midpoint of the national best bid and national best offer; and identifying the median of those values.
Commissions may be charged on trades.
CRUZ is distributed by Foreside Fund Services, LLC.