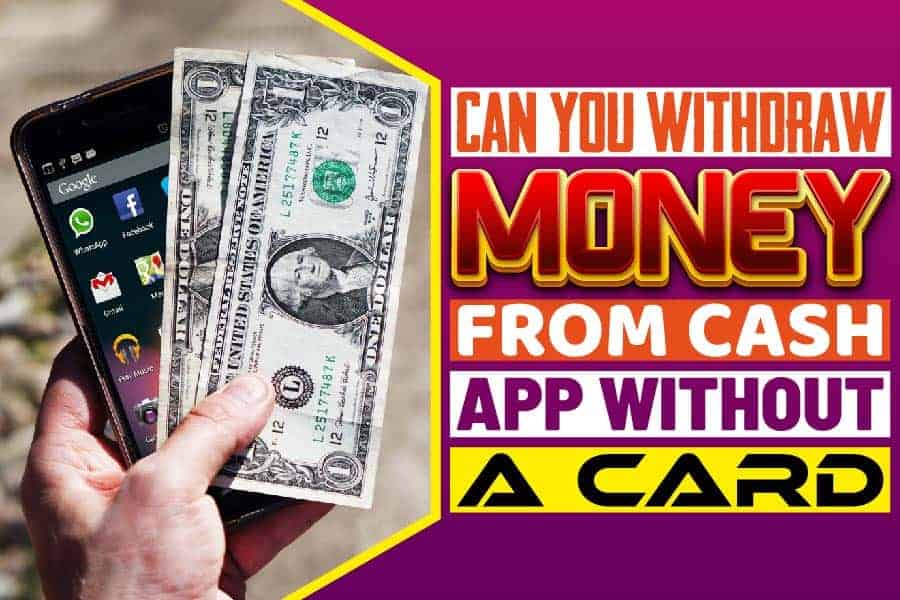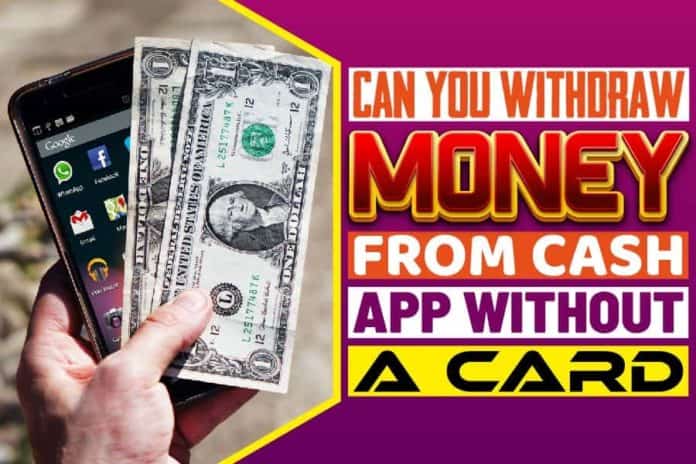 Financial tech companies enable users to transfer money instantly via a smartphone or computer. Today more consumers are embracing the use of cashless payments.
One of these financial tech companies, Cash App, offers several unique features than other money transfer choices, such as stock investment, extra savings, and bitcoin purchase.
The App offers money transfer services that let you send and receive money from friends, family, or businesses. You can also quickly pay for several goods and services, pay bills, and withdraw money.
Cash App features a debit card that makes it simple to purchase products and services. The article is about the Cash App, its benefits, its unique features, and its limitations. To begin with, here is the answer to the question.
Can You Withdraw Money From The Cash App Without A Card?
Yes, it's possible to withdraw money from Cash without certainly using the card. But first, you have to link your bank account to the Cash App. If the link is successful, you can send money to your bank account and withdraw it over the counter.
What Is Cash App?
It's a financial tech company through which you can send or receive money from friends, businesses, etc. Cash app users register their accounts for free. The App allows users to seamlessly send or receive funds from those who use the App, in the same country.
To use the Cash App, download it and select a username which is known as cash tag. Cash App will also ask for your personal information during registration, such as your email address and phone number.
Square, Inc. created a Cash App to compete with other mobile money networks such as PayPal, Google Play, and Wise in 2013. It aimed to make it easier for users to transfer and receive money, pay bills online, and pay for goods and services using their smartphones.
Unfortunately, the Cash App services are only accessible from North America and the United Kingdom.
To use the App, you must have a bank account for funding the Cash App account and have a place to withdraw your funds from Cash App.
You can download the Cash App to your devices from Google PlayStore, App Store, etc. The App will guide you through creating an account and linking it to one of your bank accounts.
From the App, you can transfer funds to Cash App users using your bank account. You can also send funds to your bank account using the App.
Does Cash App Function On A computer?
Users can access Cash App's services from a laptop or a desktop computer. Using a computer to transfer money is the same as using a mobile app. To do so, follow the following steps:
Start by clicking "New" at the bottom of the page to open a new window and make a payment on Cash App with your computer.

Fill in the recipient's email address, phone number, or cash tag, as well as the amount to send. Then, using the Pay button, send money to the recipient instantaneously.
Also, note that you can also request funds from friends and relatives when you tap the tab "Request" to ask for money from others.
How To Fund Your Cash App
Without money, the Cash App is meaningless. To conduct any transaction, you must have sufficient funds in your account. You can fund your Cash App account in the following ways:
Deposit money from a bank account
Money can be sent from a bank account to your Cash App account. Plus, you can upload your bank's information to Cash App in various ways.
Get money from other people
You can borrow money from others and use that money to fund your transactions. You have to share your cash tag with others for them to send you money.
Receiving payments
Your company uses your Cash App routing and account information to send you payments regularly.
You can also deposit government benefits into your account, such as tax veteran benefits, refunds, and paychecks, among others.
Alternatives To Cash App
While Cash App may be a viable solution for some, it is not the only peer-to-peer money transfer app available. Here are some of the best mobile banking tech alternatives to Cash App.

Wise
Wise is a payment program (available on both mobile and desktop). It allows users to send money to persons in different countries at a minimal cost.
People love and use Wise because of its transparent pricing; the App reveals all the charges before confirming the transfer. You can only send money to those with bank accounts, limiting since others use online money apps like PayPal, Chime, etc.
PayPal
It is one of the most popular online banking options. A PayPal account allows users to send, receive, and store money. It is possible to send money to bank accounts, PayPal users and make online purchases.
Almost all businesses accept the PayPal payment option, and thus you can shop at almost all online stores.
Venmo
PayPal owns and operates Venmo, a smartphone app. It is a mobile-only service available on iOS devices and Android, unlike PayPal.
You can add money to your Venmo account and send it to family, friends, etc. It is also possible to send money from Venmo to eligible bank accounts within minutes.
Zelle
Zelle is a service that allows you to rapidly transfer money to any bank account in the United States.
With simply an email address and a phone number, users may do most transactions in minutes.
Zelle only works with US bank accounts and does not accept credit card transfers.
Google Pay
Google Pay is a mobile wallet and payment system owned by Google. You have to link your Google Pay account to your bank account for easy operations.
Google Pay allows you to request, send, receive and withdraw funds from its digital wallets. Google Pay has a high level of security and a simple UI that allows quick transactions.
Unfortunately, it is only available in a few dozen countries, making it inconvenient for multinational businesspeople.
Why You Should Choose Cash App
There are no charges for essential services like monthly fees, inactivity fees, foreign transaction fees, etc.
The cash app also comes with a free debit card. Users can use their "Cash Card" to purchase and withdraw funds from their Cash App account.
Sutton bank issues the Cash App, and the card can only work with one Cash App account. When you use your debit card, you get cash boosts that assist you in saving money.
The Cash App has a "boost" feature that allows users to save some dollars when purchasing from specific vendors. For each friend you refer to Cash App and join using your referral link, you get $5.
Users can buy shares in some companies with as much money as they choose to. If you have little funds in the App, you can deduct them from your bank account.
Users of the Cash App can trade bitcoins. There are two types of fees: service fees for every transaction and an additional cost that depends on price fluctuation across US exchanges and market activity.
Reason You May Not Like Cash App
Cash App money is under the Federal Deposit Insurance Corporation (FDIC). However, the Cash App's functionality is similar to the of banks.
The difference between the Cash App and traditional financial institutions is quite significant. For example, if a bank collapses, the Federal Deposit Insurance Corporation (FDIC) covers some of your funds, usually up to $250,000.
FDIC insures Sutton bank that deals with Cash App but does not cover the funds in the Cash App.
Cash App transaction costs for sending money using a credit card are 3%. It's the standard cost for most transactions.
For example, Venmo charges up to 3% to transfer money. Users can avoid this fee by sending money using your bank account or your Cash App account funds.
The Cash Card has a limit on how much you can spend. It has a maximum spending limit of $7,000 per transaction, per day, and week. The maximum amount per month is $25,000.
The Cash Card also has withdrawal restrictions. A maximum of $1,000 per transaction, $1,000 per day, and $1,000 per week can be withdrawn from an ATM or retail.
Frequently Asked Questions (FAQs)
Can one transfer funds from Cash App to PayPal?
Money can be sent from Cash App to PayPal in two ways. That's through the PayPal Cash Plus account, while the second uses a regular PayPal account.
How Long Can Funds Stay In Cash App?
After the company lifts the hold, the funds become automatically available in your Cash App. It usually takes ten business days for this to happen. Gas outlets may also impose a temporary authorization hold of up to $100 on your Cash Card.
Will Cash App Refund Stolen Money?
If you find a Cash Card payment you didn't authorize, call the retailer right once to cancel the transaction. It may take at least ten business days to get the refund after canceling it.
Can I use Cash App to send money to myself?
Using an additional unverified account, you can send money to yourself using the Cash app. It will have specific sending and receiving restrictions, such as a $250 sending limit every seven days and a $1,000 receiving limit every 30 days.
Can the authorities track Cash App?
Authorities are unable to follow your Cash App payments directly. There's no need to erase anything because all of your Cash App transactions are already private by default.
Conclusion
The Cash App makes money transfer easier. It has cheap transaction costs and also much functionality. Register their account and start transacting with or without the Cash App Card.
It is also vital to secure your account using a Touch Id or a password. It helps in making sure that no unauthorized hands will access your account.