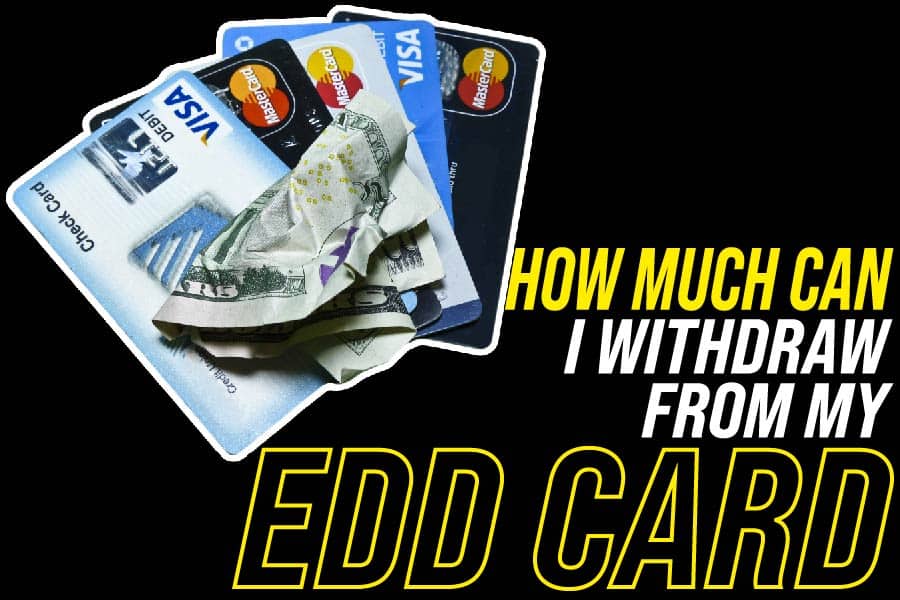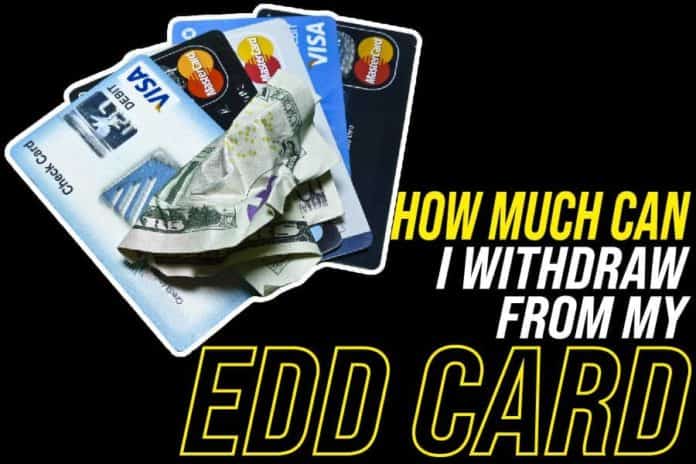 Everyone's wish is to lead a comfortable life. That is, they can provide for their family and afford some luxuries.
But that is difficult to achieve when one is unemployed. And some are even employed but can only work a few hours. Thus, they earn little or nothing and find it challenging to meet their family's needs.
Founded in 1935, the EDD (Employment Development Department) has made life meaningful for unemployed citizens and those struggling financially.
Established by the government, the EDD serves various purposes. They administer paid family leaves, unemployment insurance, disability insurance; collate the state's unemployment and labor data.
So, if you qualify for any of the programs, apply for benefit payment. If you meet the requirements, the EDD will ensure you get paid. And you'll have a debit card to withdraw your payments.
Now, the question is this.
How much can I withdraw from my EDD card?
The unemployment debit card has a withdrawal limit. It doesn't matter if you're withdrawing your cash at the ATM or purchasing something online. The withdrawal limit is $1000 daily (24 hours).
Again, remember that the financial institution handling the payment (Bank of America) could decide the number or type of transaction you can use the card for. But such actions are usually for security reasons.
It is likely that the bank noticed some suspicious activities with your account and decided to act to protect your funds.
Again, know that withdrawals at Bank of America's ATM network don't attract charges. But you have to pay $1 after two withdrawals from another bank's ATM.
Who Issues The EDD Card?
EDD has been using the Bank of America (BofA) for over a decade now. The state signed a contract with the bank in 2010. And they have the right to extend it if they deem fit.
So, the BofA issues the EDD card. It's what the state has been using. But applicants must have their applications approved before thinking about the debit card for unemployment. If the EDD does not approve one's application, there's no way you can get the EDD debit card.
How long does it take to process a claim? It takes approximately three weeks. And during this time, all an applicant can do is wait. You can't do more than this.
Once the EDD approves the claim, payment is made to the recipient's account. You can withdraw your benefits using the EDD card. But you can only get the card after the first payment.
It's the bank's responsibility to mail cards to participants. The EDD has no power, nor can it influence the bank's decision. It takes 7 to 10 days for the EDD card to arrive.
A Handy Tip: California's unemployment program is for Californians. And there are specific requirements one has to fulfill. For the benefits, only unemployed individuals or those who have their work hours reduced can file a claim.
However, the reason you're unemployed shouldn't be a fault of yours. The EDD won't pay attention to you if you have turned down job offers. It's a big red flag for them. And if caught, participants get disqualified. You could even face more severe punishment.
So, if you became unemployed due to misconduct, or voluntarily quit the job or rejected offers, you may be disqualified from receiving unemployment benefits.
How To Use Your EDD Card
Using the EDD card is not a complicated process. You can use the card wherever the Visa card is accepted. These include stores, online, and ATMs, and even by phone.
You can withdraw cash with the EDD card at ATMs or purchase items online. It's also possible to transfer money in your account to any bank of choice via the EDD card. It's a simple process, and you won't pay any charges.
If you have the card, you can get constant notifications when your bank balance is low or when money enters your account. Thus, you don't have to check your account from time to time.
How Long It Takes To Obtain EDD Card
Firstly, the EDD has to approve your application and then authorize your first benefit payment before the Bank of America can mail the card to you.
The application process is quick and straightforward. What takes more time is the approval. It could take up to three weeks or more for EDD to approve one's application.
Furthermore, if you want to continue getting your UI (Unemployment Insurance) benefits, you must hand over your eligibility information to the EDD every two weeks. Otherwise, you won't get a single penny.
The EDD would determine if you would get your next payment after verification. But if you already have a job, there's no need to apply.
Please note that the verification process is crucial. It helps the EDD track false eligibility information and fraudulent activities, thus ensuring only legit people get the benefit payment.
How To Link A Checking Account To Your EDD Card
The Bank of America or EDD didn't state that the EDD card account number is the card number. But it's not the EDD's job anyway. Therefore, we can't accuse them of anything.
It's the BofA's responsibility to notify recipients, but why would they, when they profit when people leave money in their accounts.
So, please keep it in mind. The card number is your account number. Then the password to your account is the last six digits.
With both details, you can access your account and link it up with your checking account. And it's a simple process.
To link up your account, log in and provide information about the financial institution of choice. Now, you're done!
Remember, you can set up your transfer to be automatic, though it won't change anything. Transferring money to a checking account via an EDD card takes about two to three days.
Can you withdraw benefit payments from any BofA branch? Yes, you can. It's even the quickest way to get your money out of the account.
So, if you need your money urgently, visit any BofA branch and do so quickly.
A Handy Tip: If you forgot your EDD card pin, don't fret. You can retrieve it by simply calling the number displayed at the back of the card. Please, follow the prompt and input your new number.
How To Successfully Transfer Cash From EDD Card To A Bank Account
The EDD card works like every other debit card. You can utilize it to pay bills, make purchases, transfer, and withdraw money, the same way you use regular debit cards.
Is it possible to transfer unemployment benefits to a bank account? Yes, you can perform such a transaction with your EDD card. But this is only possible by setting up a direct transfer.
So, you can transfer money on your EDD card to your bank account through direct deposit.
A Handy Tip: Once you have gotten your EDD card and wish to initiate the direct deposit function, you can contact BofA's customer care for assistance.
Is Collecting EDD Benefits Falsely A Crime?
Information on what makes an applicant eligible for benefits payment is quite clear. Yet, many people are still trying to cheat the system.
If you're confused about the requirements, the best thing is to check the EDD's official website. Don't claim you were not aware of the requirements.
Now, here's the question. Is claiming EDD benefits falsely a crime? Yes, it is. You could face severe punishment for such an offense.
It doesn't matter if you're a Californian. The requirements are apparent, and the state expects every application to be genuine.
So, if you claim benefits through falsehood, you could be jailed, fined, or face both punishments.
What's unemployment insurance fraud? Let's be clear on this.
UI or unemployment insurance fraud occurs when a person submits personal information that's mixed, incorrect, or incomplete.
It might be that the person is working, turned down a job, or got fired from a job due to misconduct. But they may fail to state this, knowing that the EDD could disqualify them. And there are other actions considered UI fraud.
How can you ensure that you don't commit UI fraud? It is simple. Crosscheck your details before submitting them. Ensure whatever you're turning in is the correct information.
A Handy Tip: Unemployment fraud can happen in several ways. It could be an intended criminal activity. Or, it could be when a recipient provides inaccurate or incomplete data to cheat the system.
Individuals who defraud the state a considerable sum might even get a longer jail term, ranging from one to five years.
Conclusion
How much can I withdraw from my EDD card? As earlier said, the EDD card has a withdrawal limit of $1000. But BofA can restrict how much one can withdraw with the EDD card or purchase items online.
However, people should try to understand how the EDD operates. And recipients need to turn in their details for verification when requested. Those who fail to do so miss their benefit payments.