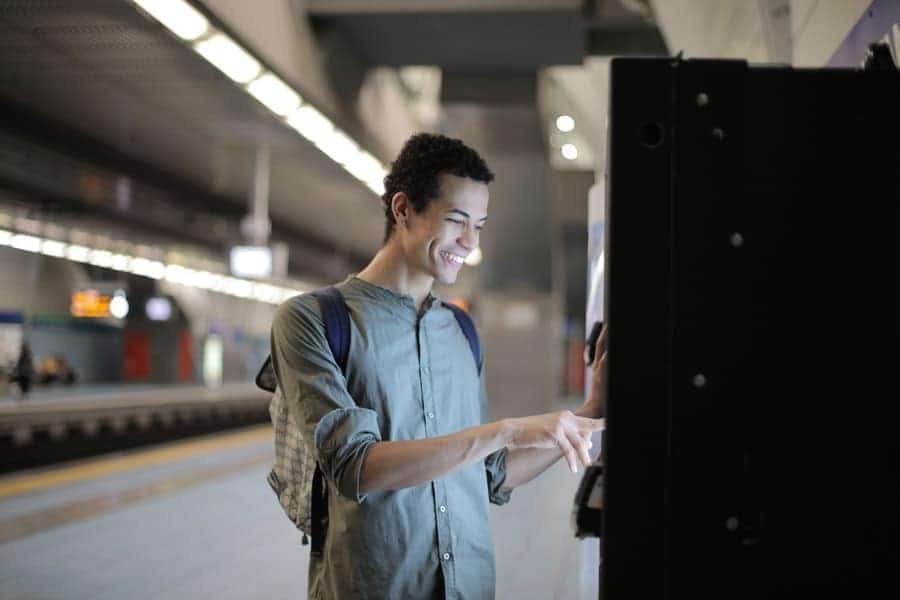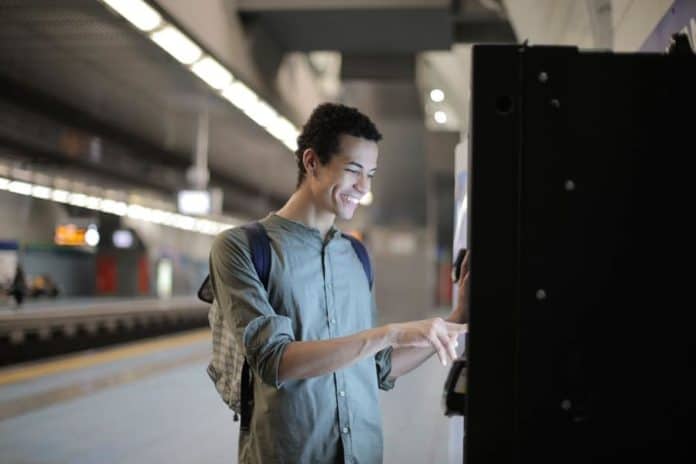 As Bitcoin achieved an all-time record high this year, demand has soared, and an increasing number of individuals want to access it quickly and securely. Bitcoin ATMs are a perfect option to get started in the world of cryptocurrencies — they don't require a lot of knowledge and are easy to use. Most of the time, all you need is a crypto wallet on your smartphone and some cash or cards in your pocket to buy Bitcoin. 
What Is A Bitcoin ATM?
A Bitcoin ATM is a kiosk where people can buy Bitcoin. Some Bitcoin ATMs are also bi-directional, allowing for the purchase and sale of Bitcoin for fiat currency like USD. 
Even though they resemble typical ATMs and have a similar function, Bitcoin ATMs are not the same as traditional cash ATMs. Instead of connecting to a bank account, they are linked to the Internet and connect the consumer directly to a Bitcoin exchange, providing a quick way to buy Bitcoin with cash or a card. Bitcoin ATMs are commonly found at retail outlets,  department stores, pubs, cafes, malls, and airports.
To use them, you'll need to input your Bitcoin wallet address. Depending on the level of safety you desire, you can buy either a software wallet, a hardware wallet, or even a paper wallet. If you don't have a wallet, certain ATMs will print a paper wallet for you, which will have a private key that you can use to gain access to your wallet.
How To Use Bitcoin ATMs
To buy Bitcoin using an ATM, use the machine to scan your wallet's QR code. After that, input the amount of fiat currency equivalent to the value of Bitcoin you want to purchase. Fill out any ID information that is required, which may include sending a security code to your phone. To finalize the transaction, enter the security code; the Bitcoin should arrive in your wallet within minutes. To sell Bitcoin, follow the same steps as above, but select "sell" instead of "buy."
How To Find A Bitcoin ATM Near You
Although one can use Google Maps or business directory sites such as Yelp to find Bitcoin ATMs near them, the following are some of the best options to locate Bitcoin ATMs accurately.
Tracking Websites
A tracking website is the most reliable option to find crypto ATMs. They are gaining popularity since they are simple to use. They have a worldwide crypto ATM database listed on their website and provide many beneficial functions and features.
You can filter your search by checking for supporting cryptocurrencies, the availability of ATMs that provide the option of both buying and selling Bitcoin, and specific destinations (country, state, city, or ZIP code). Certain tracking websites also allow you to search by manufacturer. They also provide details like ATM fees, accepted fiat currencies, and exchange pairs so that buyers can make an informed selection before purchasing.
Tracking websites are user-friendly since they provide all the required information of each listed ATM, such as its specific address, directions to the location, operating hours, and contact information for the operator. They also give you suggestions in your region based on your current location.
Bitcoin ATM Operators
Another way to locate Bitcoin ATMs near you is to go to an operator's website. Several of the most well-known Bitcoin ATM operators publish maps of their own ATMs. For example, PayDepot, one of the world's largest Bitcoin ATM networks, provides an interactive map with some unique features, such as checking if Bitcoin ATMs are open or closed right now. To find a Bitcoin ATM, follow the below steps.
Identify the Bitcoin ATM on the map.

Discover Bitcoin ATMs/machines in your area.

Obtain all of the information you need about that particular ATM (fees and limits).

Get routes and navigation information to the finalized ATM from your current location.
If you're unfamiliar with using Bitcoin ATMs, they offer a simple guide and detailed FAQs that should address all of your questions.
Mobile Applications
Numerous mobile applications can help you find Bitcoin ATMs. They're available on the Google Play Store and the Apple App Store, respectively. You may use the app to discover the nearest ATM by sharing your location. These applications show whether the ATM is unidirectional or bidirectional, as well as the supported cryptocurrencies and fiat currencies. It works great; however, you must download data for each country separately.
Benefits Of Using A Bitcoin ATM
Following are some of the advantages of using a Bitcoin ATM:
1. Exceptional speed
Bitcoin ATMs are the best alternative if you want to send or receive bitcoins quickly. You may finish each transaction in a matter of minutes, which is far quicker than internet exchanges.
2. Available in a variety of countries
You don't need to be concerned about whether or not these ATMs are available in your area because they are widely placed in more than 60 nations, with the number likely to grow in the future. Users will be more interested in investing in Bitcoin as the number of installations grows. 
3. Enhanced protection
When you use automated teller machines, you are not dealing with third parties. As a result, your BTC is safer, and no one can exploit you. 
4. Convenience
ATMs are familiar and comforting, even if you are new to buying and selling virtual currency. You do not need to go through a lengthy process of owner verification and other formalities to make transactions. 
5. Ease of access
Converting one's money into the local currency is a challenge that people experience while traveling abroad. You don't need to go to a bank to convert cash. All you need to do is locate these ATMs and exchange your Bitcoin for local fiat currencies.
Conclusion
Bitcoin ATMs make it simple for individuals to deposit cash, receive BTC, and convert Bitcoins into real money. They are easy to use because you won't have to provide personal documentation for the tedious identification that online exchanges require. Using these ATMs improves your security because you don't have to link a bank account or credit card, thereby protecting yourself from theft or hacking.
Bitcoin ATMs can be found all over the world. Using the above options, you can easily identify the nearest Bitcoin ATM location by address, along with all the relevant information needed to use them.