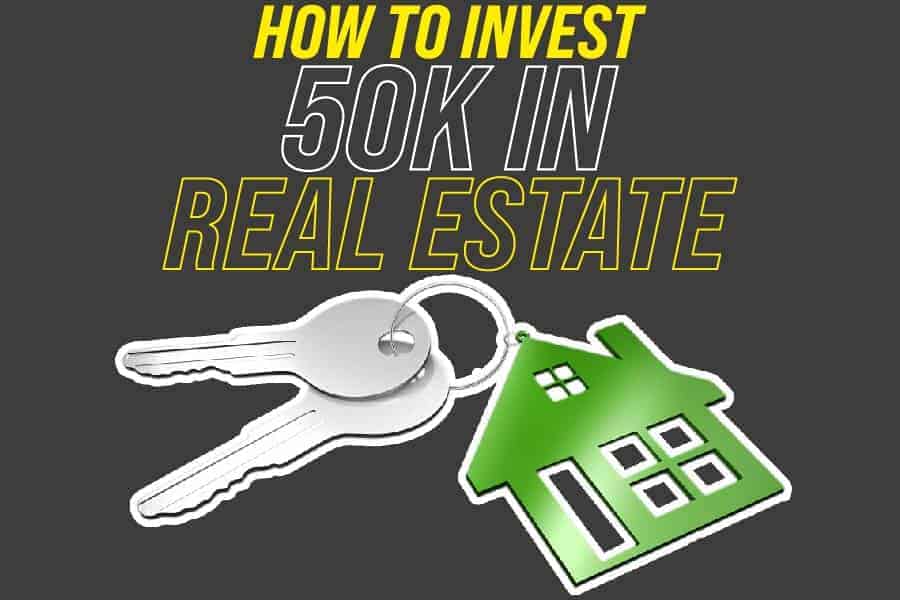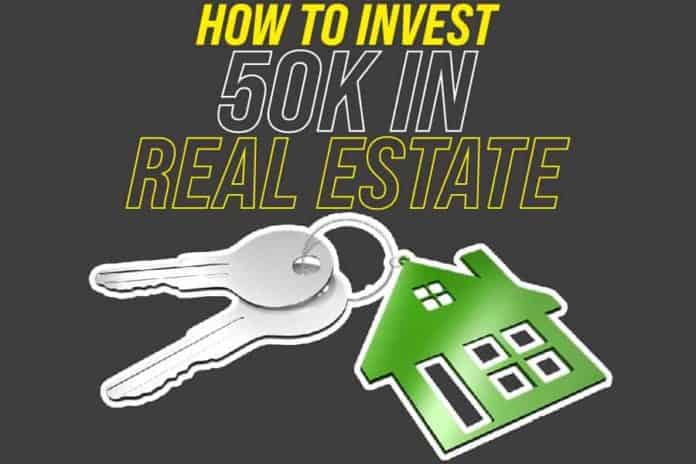 Real estate investing is one of the few ways to reach financial security, but it isn't that obvious. There are so many different strategies and concepts that you will have to master to get started.
Usually, people with more money to spend prefer to invest in real estate. This is a great way to earn significant returns on your investment. 
50k will give you the ability to invest in a small piece of property that can be turned into a rental property or flipped for profit.
This guide is for people with 50k who want to invest in real estate but don't know where to start.
How To Invest 50k In Real Estate
There are only a few ways you can make money on a budget in real estate. You can join a crowdfunding organization and a Real Estate Investment Trust (REIT).
You can also buy a fixer-upper and sell it for more than you bought it for, or you can buy a property and turn it into a turnkey rental property.
Real Estate Investing 101
Real estate investing has been around for centuries. It is a tried-and-true method of growing wealth over time.
It is an attractive alternative asset class to the stock market. It is one of the few asset classes where you can deploy a large amount of capital and still get a decent return on it.
Real estate investing is a risky business, but it can also be hugely rewarding. However, with the cost of real estate at an all-time high and interest rates at historic lows, it may feel more difficult than ever to get into the market.
So, what's so special about 50k? This amount is unique because it bridges being a middle-class person and financially independent.
There are several reasons why real estate is the best investment vehicle for first-time investors. 
The main reason is that it will always have a demand. There is always a need for homes, apartments, and other dwellings. 

Another reason is that there is no better way to build wealth than investing in real estate.
The real estate market is booming, but it can be challenging to know where to start. There are several options, like investing in a new construction property or buying a fixer-upper. The best way to get started is to start small. 
If someone were to tell you they've made millions off of real estate, don't believe them. However, if they told you they made their first million by investing in a single property, that's much more realistic.
If you want to start real estate investing and make your first million with it, the best way is to begin with that 50k and turn it into a profit, then sell, rinse and repeat.
There are many different ways to go about investing in real estate. If you have lots of capital and want to start a significant investment, you should look at investing in commercial property. 
If you are starting or do not have lots of capital, you should invest in real estate crowdfunding platforms like Fundrise or RealtyMogul.
Many details need to be taken care of, such as finding the right location, determining a price point, and ensuring the building has enough space for tenants. 
Fortunately, there are opportunities to buy real estate with all the details already taken care of for you, for instance, turnkey rentals.
Choosing the right location is vital. This factor is crucial when it comes to real estate investment. It is something that you must always keep in mind because the location is everything.
If the location of your property isn't convenient for your potential buyers, then it's improbable that anyone will want to buy it from you, and you'll end up with a house that no one wants to buy.
4 Ways To Invest 50k In Real Estate
1. Turnkey Rental Property
Turnkey real estate refers to houses or apartments that are completely furnished and ready for tenants. 
These are usually duplexes, houses, or single-family units. All you have to do is flip the switch and start collecting rent checks.
The turnkey property requires much less effort on your part than traditional rentals. A turnkey rental property is what you think it is precisely: a house that is already rented out to tenants, in which you have the opportunity to purchase at a discount.
There are several advantages to starting a turnkey rental property business.
2. Fix and Flip
You can fix and flip homes to make a handsome profit. It is the traditional way to get started in real estate. It's simple, low cost, and can be a very profitable way to begin your investing career. 
Fix, and Flip is one of the most popular and lucrative ways to invest in real estate. However, it's not for the faint of heart, and it's certainly not a get-rich-quick scheme. 
Anyone who wants to do Fix and Flips needs to be ready and face the challenges that come with it.
But if you're ready for it, there are many great benefits to Fix and Flipping. It can allow you to make a substantial profit from just a single deal, starting with as little as $30,000.Then you can do the repairs and renovations with $20,000 and sell for a profit of $100,000.
Fix and flips can be a great way to make money, but you need to be careful. Many pitfalls come with fixes and flips;
If you have no idea what you're doing, it can be easy to lose money.

It requires a lot of hard work, time, and effort.

You'll need some cash on hand to start, so it may not be the best option for you if you don't have any.
3. Crowdfunding
Crowdfunding is a new way to raise money from the people who need it most. It allows you as an investor or borrower to raise or borrow money for any business, idea, or project that you want to be a part of.
Crowdfunding is a method of collective funding which allows individuals to pool their money together to support an idea or cause. 
In the real estate world, crowdfunding refers to the use of sites such as RealtyShares, Fundrise, RealtyMogul, and Patch of Land to help fund your real estate deals without taking on any of the risks yourself. 
Using these sites, you can find thousands of opportunities to invest in real estate.
Many investors will use crowdfunding in conjunction with hard money loans or lines of credit to allow them to make more significant investments than they could have otherwise. 
If you are looking for a way to diversify your investment portfolio, real estate crowdfunding might be right for you.
4. Real Estate Investment Trusts
A real estate investment trust (REIT) is a publicly-traded company that invests in income-producing real estate. REITs have become increasingly popular over the last few years due to the rising interest rates and the sluggish economy.
A real estate investment trust is an excellent way to invest in real estate without doing it yourself. These companies invest in real estate and mortgages so that you can invest in their stock.
The primary benefit of investing in a REIT is the minimal risk involved with this type of investment. There is no management required, no tenants to manage, and no delays in rent payments. 
If you invest in a REIT, you can choose to invest passively by purchasing shares on the open market, or you can take an active role as a shareholder by buying shares directly.
A great place to start is with a REIT that invests in apartment buildings. You can get diversification from one single REIT, and many of them pay dividends that give you a solid return on your money.
Just make sure you research any investment like this before you leap. The world of REITs can be tricky for first-time investors, so make sure you do your due diligence.
Conclusion
Real estate investment can be a great way to start building wealth. It allows you to leverage your money into something that you will appreciate over time instead of depreciating.
Whether you invest $50k or more, there are many ways for you to begin investing in real estate.
If you want to know more about how to invest in real estate, it might be better to do a little bit of research first. You may also consider talking to a professional who has been working in the market for a while. This way, you will be better informed.