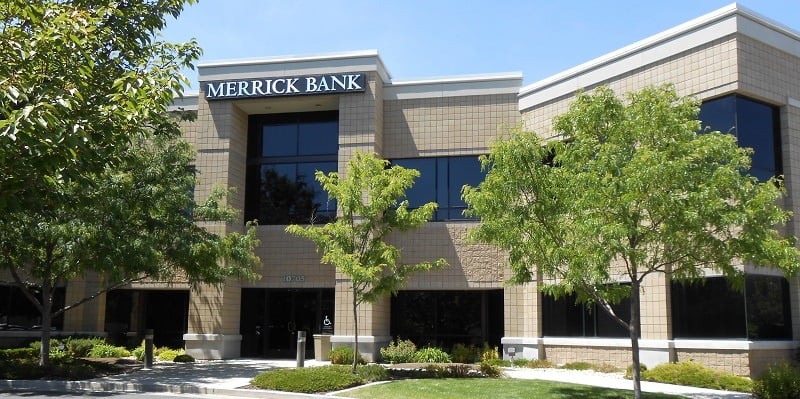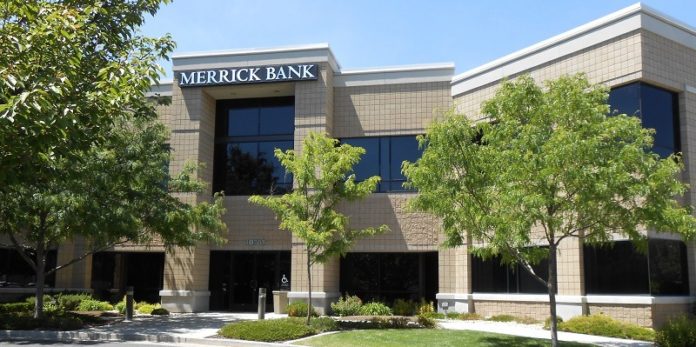 Merrick Bank is part of the CardWork's Inc. It was founded in 1997 and headquartered in South Jordan, Utah. Merrick Bank is among the few financial institutions that have earned the trust of many, including the federal regulators. After a series of evaluations, the bank was rated "outstanding" by the U.S federal regulators. Such a rating indicates that the bank is healthy and meeting expectations. However, federally insured banks, under the Consumer Reinvestment Act (CRA) of 1977, are obliged to meet the credit needs of individuals in the community they are serving. They are required to utilize sound banking principles and modus operandi to meet the financial needs of all in the community, whether low or moderate-income earners, which is what Merrick Bank was established for. The bank specializes in helping customers to create, re-establish, and rebuild their credit. It's also rated among the top 20-issuer of Visa credit cards in the United States of America.
How Big Is Merrick Bank?
The fact that Merrick Bank currently has over 3 million customers says a lot about the quality of services they render. Merrick Bank has grown to become one of the highly sought after banks in Utah and the entire country. The bank is an online lender with capital that proves that it can weather any financial storm. Its Tier 1 capital ratio is approximately 18.54 percent, which is above the 6 percent mark considered acceptable by regulators.
Assets
Concerning assets, Merrick Bank has been impressive thus far. As of June 30, 2019, the bank's assets were placed at $3,929,460,000, making it the 11th largest bank in Utah alone. Merrick Bank has also issued loans worth $3,127,915,000 and a deposit of $3,060,819,000. And in the third quarter of 2019, the bank recorded a 13.73 percent growth in assets. The report of Merrick Bank's long-term increases in deposits shows that it can raise funds to boost its assets and loans in the future. The bank also has a return on equity of 27.74%, which is a clear indication that it is properly managed.
Employees
Merrick Bank currently has 324 employees, and there's a possibility that the figure might increase anytime soon, while most of its competitors are considering job cuts. Merrick Bank also has impressive employee ratings when it comes to benefits, salaries, job security, work-life balance, and management. New hires have praised how quick and transparent the bank's hiring process is.
Number of Branches
In the United States of America, Merrick Bank's headquarter is located in South Jordan, Utah. However, the bank's primary merchant account division is at Woodbury, New York. And according to the financial institution, the decision to locate the division there is to boost productivity. So, it has only one branch but open to doing business with people from other parts of the country. Being an online lender gives them the privilege to serve clients outside Utah.
ATM Network
Impressively, Merrick Bank's secured card is are Visa and MasterCard. These are cards you can use at any ATMs that accept them. And this implies all ATM because you can find Visa and MasterCard everywhere. So, you don't need to look for a Merrick Bank ATM to withdraw money. Furthermore, the bank charges an annual fee of $36 for its secured card, but you will have to pay $0 afterward. A customer whose credit profile meets the bank's standard also qualifies for the Platinum Visa card.
Finding a Merrick Bank branch near you
Merrick Bank's customer review and ratings indicate that the bank does provide an impressive online service. What that implies is that interested customers can do business with the bank from anywhere. One doesn't need to look for a branch. The bank operates only one branch and has the resources to serve customers from other locations anytime.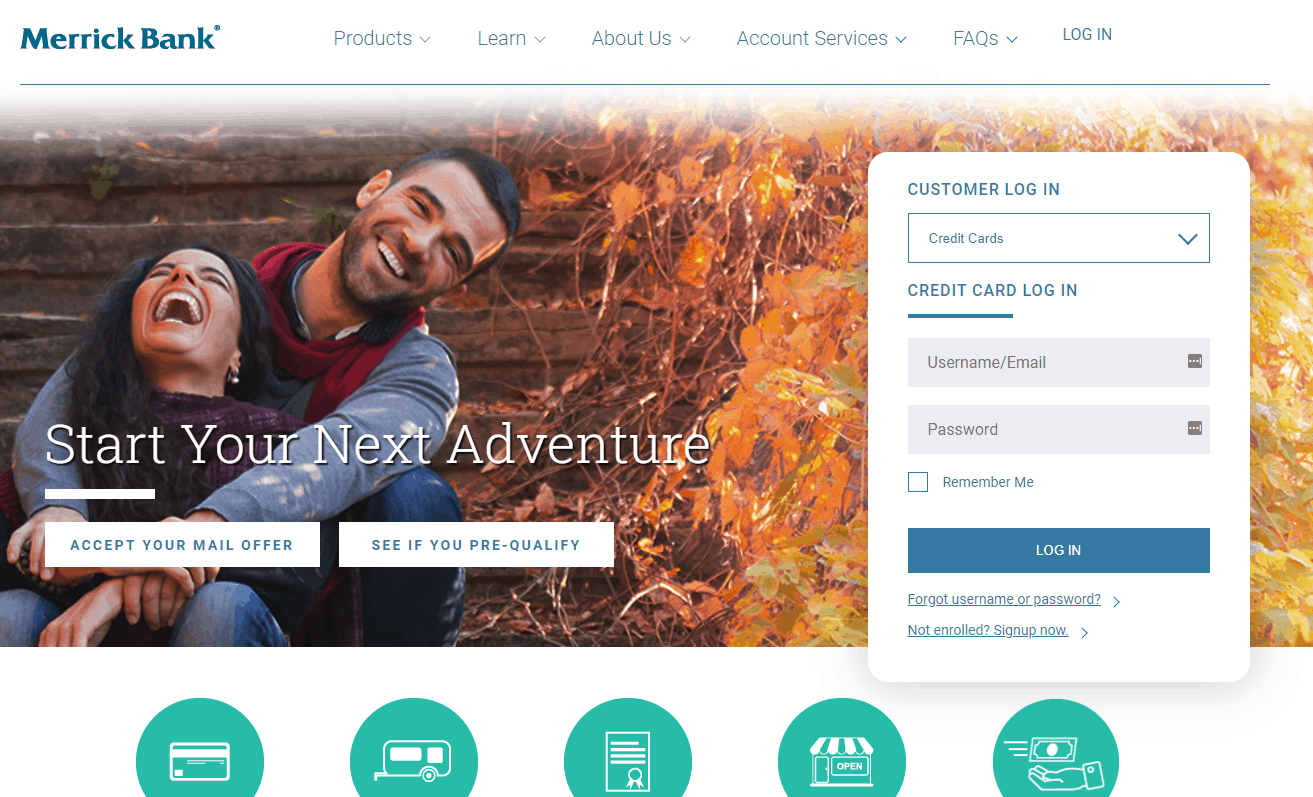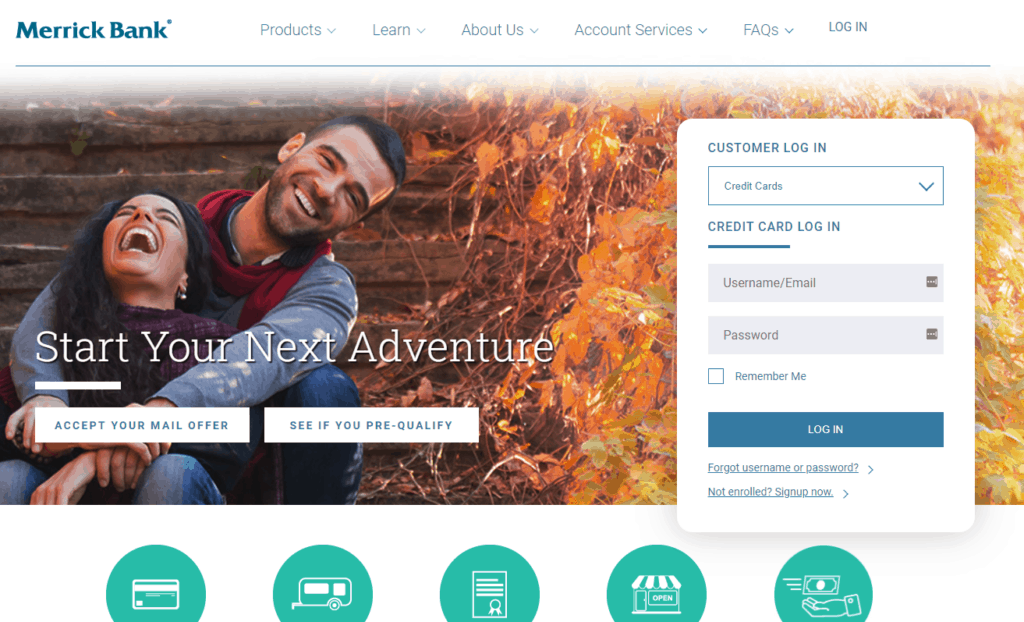 Merrick Bank Online Banking
Unlike most of its competitors, Merrick Bank does have a comprehensive online banking platform. The platform is user-friendly and easy to access. You can access with any operating system and multiple devices. These include a desktop computer, laptop, or mobile device. The bank has provided a comprehensive FAQ section for customers to get all the answers they need. However, if you are looking for further help, you can chat with one of the bank's agents anytime. Having an online bank account with Merrick Bank also gives you access to tons of facilities, which makes online banking enjoyable.
You can settle payments online anytime.
Check online balance and even copy your finance to a different financial institution's account.
Receive bank notification straight to your mobile device for any business transaction that involves your bank account.
You can view images of newspaper transactions such as assessments, including first deposit slips.
Instantly transfer money between accounts.
Numerous mouthwatering benefits are also associated with an online Merrick Bank account. So, it's not just about viewing account balance, setting notifications, or making payments. To encourage its customers to take advantage of the ease of online banking, Merrick Bank has made several benefits available. So, if you have an online account, here are the things you can benefit from this bank.
You may receive more discounts on journeying when you utilize an online reservation for your holiday schedule.
You accumulate reward tips when you shop regularly.
You can view the ATM nearest to you on the bank's application form online.
You can earn rewards from friends and family members.
You can commit your cash on the currency market with ease.
Convenience
Most of the Merrick Bank reviews are somewhat encouraging. All in all, the bank does offer services considered highly convenient for customers in all categories. For instance, there is no need to visit the bank to make money transfer, print account statements, or view your balance by placing a call to the bank. You can do everything via Merry Bank's mobile app from the comfort of your home. The app is free and frequently updated to give you access to the latest features available.
Mobile Banking & Technology
Customers also rate the Merry Bank app highly not only because of its intuitive interface and simplicity. With this app, you can quickly check and track your goScore and FICO Score to avoid surprises on your credit. You can receive details regarding your account and access your account on the go or anywhere. Details of users on this app are protected via diverse security options. Customers are also reassured of risk-free banking and given the privilege to sign up for various security alerts. Plus, the bank's app also features varied security controls deployed to protect customer's accounts.
As you already know, banks are primary targets for online thieves. That's why they invest heavily in security and have laws that protect customers should something happen to their funds. However, the technology and security features put in place indicates that Merry Bank is prepared to combat any security threat. In addition to encrypted mobile banking data and firewalls, the bank features device recognition technology, among other security options.
Financial Services Offered
Merrick Bank did start operating as a small bank but recorded impressive financial success within a short time. The bank's achievement is noteworthy because most of its competitors haven't been able to match some of their records. By and large, if you live outside Utah, ensure you check the bank's site thoroughly to know if they serve interested customers in your area.
Certificates of Deposit
Merrick Bank offers CD accounts, which have competitive interest rates. The account does require a fee of $25,000 to open, and the bank also has fewer CD choices for its customers. These include an 18-month and 12-month CD term. The interest rates for these account options also vary by term. But the most important thing is that customers who use these products rate them highly for fair APY and interest rates.
For the 18-month CD, Merrick Bank offers an APY of 2.10%, which stands as the second-highest APY for nationally available 18-month CDs from a bank. On the other hand, the 12-month CD has an APY of 2.87%. Customers are also allowed to withdraw their interest before maturity, but partial early withdrawals are not allowed. There's also no monthly fee unless one initiates withdrawal on that said month.
You can also access your money by linking the Merrick Bank CD to an external bank account. After linking both accounts, you will have the privilege of transferring the money from your Merrick Bank account and the other electronically.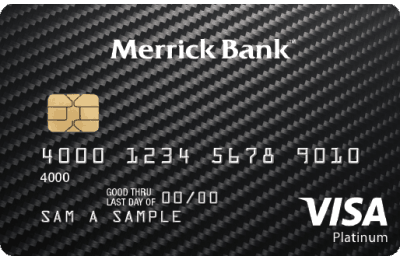 Credit Cards
Merrick Bank offers two types of cards, which are Unsecured and Secured credit cards. For the unsecured credit card, you will find the Classic Platinum Visa credit card. You will receive your monthly FICO score for free, and your account will regularly be reviewed for credit line increases. The application process is easy and straightforward. But, you are required to have received an offer with an "Acceptance Certificate Number." You will have to utilize the number when applying for your card online.
The second credit card from Merrick Bank is the Secured credit card. The bank offers a Secured Visa Card designed for individuals who didn't qualify for any of their unsecured cards. This card is helpful for interested persons who are still building or rebuilding their credit – in other words, those with less than perfect credit histories. The minimum deposit for Merrick Bank's secured card is $200, whereas most of the secured cards out there request a minimum deposit of $300 to $400. You can add additional money to your security deposit increasing your credit line at any time up to $3,000. While this functions in other ways similar to a normal credit card as you pay your bill every month, and it reports to the credit bureaus, however, you cannot complete a balance transfer with your Merrick Bank Card. It is important to note that there is a yearly fee of $36. So you can see that Merrick Bank's secured credit card is not heavy on your wallet.
Loans
Merrick Bank does offer secured loans with a highly competitive interest rate. If you are shopping for an RV, you also might want to take a look at their loan offer. The bank offers RV, boat, and trailer loans, only that it doesn't lend to buyers directly. The only way to get a loan in this circumstance is when you are buying via a dealer that makes use of Merrick bank. If that's the case, then you might qualify for a loan, even with a credit score that is as low as 550.
Pros of Banking with Merrick Bank
There are plenty of reasons banking with Merrick Bank is a wise choice. Their customer-base keeps growing now and then, which is a clear indication that the bank is healthy and offers competitive rates. Here are other reasons you should consider banking with Merrick Bank.
The loan application is quick and effortless.
You don't need to visit the bank for anything. Everything is online.
Bank accepts individuals with bad credit.
Customers have the power to decide the credit limit they want to set on their card, which ranges from $200 – $3000.
Account management is a breeze. You can view purchase history, make payments, and see your FICO score online from the comfort of your home.
You can set a notification to keep track of your account.
They have highly trained and responsive customer service agents.
Cons of Banking with Merrick Bank
No financial institution is perfect, so it's unwise to say that Merrick Bank doesn't have a disadvantage. Below are some of the reports from customers about the bank. However, a reputable bank will always work on its shortcomings that could potentially lead to customer dissatisfaction. And for that, Merrick Bank is far ahead of its competitors.
However, here are customer reports:
Not everyone will qualify to open an account.
Account opening requirement is high
The bank offers limited account options
Acceptance does take a longer period.
The Bottom Line
If you are seeking a feature-rich bank, Merrick Bank is a wise choice. It offers a competitive interest rate and a smart choice for individuals with bad credit. The bank also gives customers a chance to build their credit faster by allowing them to make regular deposits. So, if you want to service your credit, or need personal, boat, and RV loans, Merrick Bank is a wise choice.
Furthermore, customers are not forced to pay monthly fees unless one initiates withdrawal before the maturity period. The bank is also FDIC insured, meaning funds deposited in there are well-protected. The FDIC is an agency belonging to the U.S. government. That means the United States government is the one protecting your money, not an independent or private body. Customers are also provided with either a Visa or MasterCard, which they can use worldwide. However, if you are seeking a bank you can use for your business account, you should consider other banks. Also, know that you can only deposit money via a linked external account electronically.