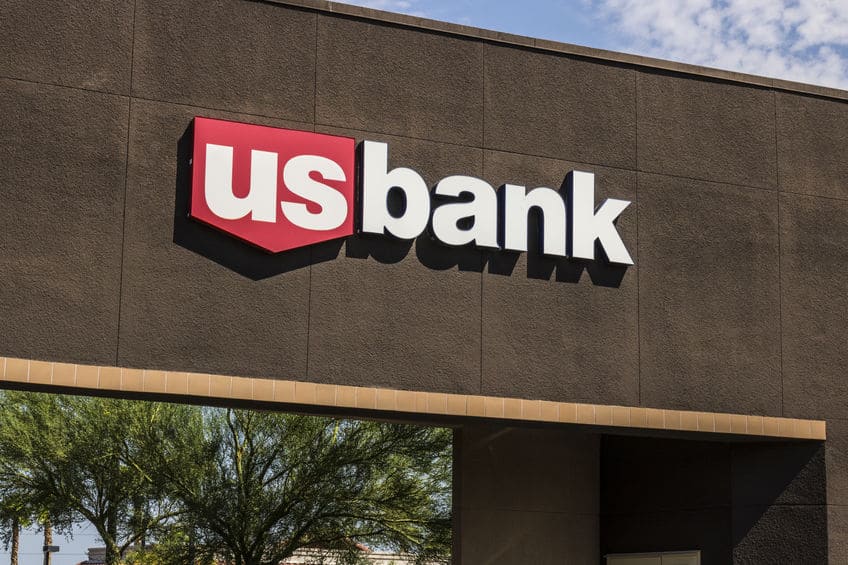 U.S. Bank is part of U.S. Bancorp. Although it is located in Minneapolis, Minnesota, it is incorporated in Delaware. According to recent reports, U.S. Bank is ranked No. 5 on a list of the largest banks in the United States. With that spot, it is a major competitor of the Big Four. One of the reasons why it is so competitive is because it serves the areas that some of the larger banks do not serve or serve minimally. U.S. Bank offers checking, savings, investment, credit and other financial products to government agencies, businesses and individuals in the United States. U.S. Bank originally started as the United States National Bank of Portland in the early 1890s. Over time, it grew through mergers and expansions. It is helpful to know what you may expect from U.S. Bank and its services if you are considering banking with this institution.
Table of Contents
How Big Is U.S. Bank?
In the 1980s, what is now known as U.S. Bank started expanding out of Oregon. The first acquisition was in Washington, and it eventually expanded into California. Expansions continued throughout Idaho, Nevada and several other states. It is one of the larger banks that primarily serves the Midwest area today. Its growth has been steadily continuing since the 1980s in several aspects. At the end of the third quarter in 2019, its market capitalization was $98.2 billion.
Revenue
At the end of the third quarter of 2019, U.S. Bancorp's revenue was $7.051 billion, which was 7.8% higher from the same time in 2018. In 2018, its total annual revenue was $25.775 billion. That represented a yearly growth of 8.93%. The revenue total was $23.663 billion in 2017, and that showed a growth of 5.53% from 2016, which ended with a revenue total of $22.424 billion. From the 2015 total, revenue was up 4.33% in 2016.
Assets
In terms of assets, U.S. Bank ranks No. 7 in the United States. At the end of September in 2019, U.S. Bancorp's assets totaled $481.719 billion. In comparison with the third quarter of 2018, that showed a growth of 4.42%. The total assets grew between 2015 and 2016 by 5.72% to $445.964 billion. They grew 3.6% to $462.04 billion in 2017, and they grew by 1.15% during the next year to total $467.374 billion in 2018.
Employees
U.S. Bank has at least 72,400 employees. Overall, it receives good ratings from employees for its benefits, fair work policies and work environment. The number of employees may be decreasing in the coming years. An executive from U.S. Bank announced that it planned to cut a considerable number of jobs at various branches across the country. However, the cuts were expected to only affect 2% of the workforce. The executive said that the decision was based on the changing needs of customers and the increased use of mobile and online banking features. Other banks have also recently cut jobs for these same reasons.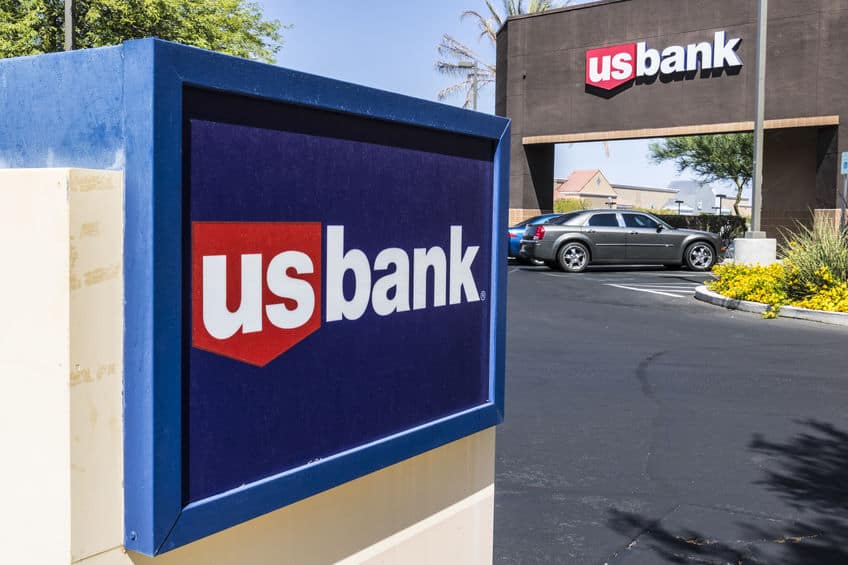 Number of Branches
In the U.S.A., there are about 3,100 U.S. Bank branches. Although the bank is planning to cut some jobs, it is not simply closing branches. It is also looking for areas where it can grow. Recently, U.S. Bank announced the opening of its first branch in Charlotte, North Carolina.
ATM Network
U.S. Bank has more than 4,800 ATMs in the United States, and there are 28,000 MoneyPass ATMs that customers can use without fees. Most of them are distributed throughout the Midwest. If you live in an area that includes smaller cities and live several hours from a major metro area, you may find one or more U.S. Bank ATMs near you. This is why the bank is rated highly among Midwest residents who live in rural areas.
Finding a U.S. Bank Branch Near You
If you are thinking of enrolling in a checking account or want to use the bank's other services, you can see where the nearest service centers are with the U.S. Bank location search feature. On the page, you can select your state of residence to see if there are branches close to you. Alternately, you can enter your zip code in the search bar to see if there are results. If you find multiple branches, you can customize your search with several filter options. Also, the location search tool is helpful for finding ATMs in your area.
U.S. Bank Online Banking
Like its competitors, U.S. Bank has a comprehensive online banking platform. You can access it from a laptop or desktop computer on nearly any browser. If you stay on the main page for a minute, a popup window appears and gives you the option to chat with a representative if you want fast answers to questions. These are some of the features that customers find favorable about the online banking platform:
View your balance and transaction information for any U.S. Bank account.

Make fund transfers between U.S. Bank accounts or other bank accounts.

View and print current or past statements.

Set up automatic alerts to be sent to your phone about various bank activities.

Manage your financial data and learn about account aggregation.

Send and receive money through Zelle.

Schedule bills to be paid directly from your account.

Set travel notices for your bank cards or lock them.

You can also perform other functions that you may otherwise need to visit a bank to complete. For example, some people go to their bank to order checks or call to change their contact information. With the online platform, you can do those things electronically as well. U.S. Bank also has a program called CreditView, which is powered by TransUnion. It is a credit monitoring program that lets you view your score and report.
Convenience
Most reviews for the platform are favorable. In terms of convenience, it excels in several areas. In comparison with the time that it takes to visit a branch to print old statements, call to check a balance or go to a banking center to make a money transfer, the app saves a great deal of time. Customers especially rate the CreditView feature highly because they can see their information on demand, learn ways to build their credit and see the potential impact of financial decisions that they are thinking about before they make them.
Technology
As it is with any bank, U.S. Bank is a prime target for online thieves. However, the bank has an aggressive strategy to fight hacking attempts and fraud. One of the security features that customers feel reassured about is the bank's risk-free guarantee. It promises that customers will not be charged for unauthorized use of their bank accounts or cards. U.S. Bank also gives customers the ability to sign up for various security alerts. The bank has an extensive policy with specifications about its encryption technology, fraud prevention measures and other security features. Most customers who use the platform do not report any dissatisfaction with the bank's security issues or risk-free guarantee. The bank has a strong reputation for contacting customers immediately if there are suspicious transactions.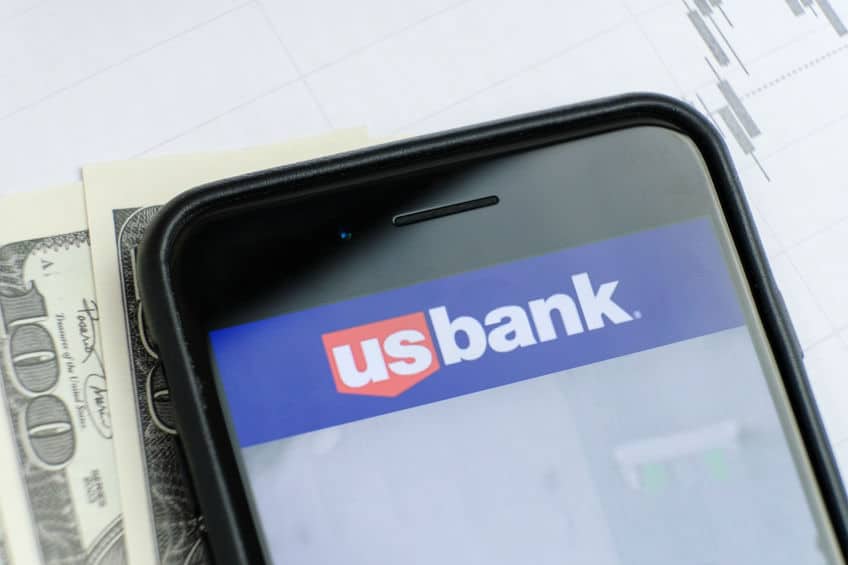 U.S. Bank Mobile Banking
With the U.S. Bank mobile banking app, most of the features are the same as the online banking system. However, the app has a few unique features that you cannot use through the online banking system. These are some examples:
With a compatible device, you can sign in using touch or face ID.

You can use your location to find local bank branches and ATMs.

Using your camera phone, you can deposit checks by taking photos of them.

You can also access Zelle with the app. With the U.S. Bank mobile deposit feature, some customers were unhappy about the limits. If you do not have extensive depositing needs, this will not be an issue for you. However, if you make daily check deposits, you may want to find out ahead of time what your limit will be. On the site, U.S. Bank does not provide a specific amount. However, it states that your daily and monthly deposit limits are based on several factors. One of the most important factors is the age of the account. For example, an account that is new may have a limit that is as low as $200 per day. However, after 90 days and onward, your daily and monthly limits will likely increase. You will see the personalized limits when you open the mobile deposit choice from the menu.
Overall, the U.S. Bank mobile application has favorable reviews. According to more than 746,000 reviewers on the Apple App Store, the app earns an average of 4.8 stars. Two favorable options among Apple reviewers are touch ID and face ID capabilities for accessing the app. Out of about 155,000 reviews on Google Play, Android users gave the app an average of 4.4 stars.
Financial Services Offered
Although U.S. Bank started out as a small bank that operated in one state, it now has financial services in many states. If you do not live in the West or Midwest and want a bank with local services, be sure to check the company's site to see if it serves your area before you invest too much research in its services. When comparing the annual fees of the Amex Platinum Card vs the Chase Sapphire Reserve, it's important to consider the unique benefits and rewards each card offers to determine which one is the better value for your individual spending habits and travel preferences.
Checking Accounts
There are five types of checking accounts with U.S. Bank. The options are designed to fit several income ranges and depositing needs. With each account, you can use MoneyPass ATMs with no surcharges.
Easy Checking is a simple account for basic use. The cost for this account is just under $7 each month. If you sign up for one or more monthly direct deposits that total at least $1,000, you do not pay anything. You will not have to pay the maintenance charge if you keep a balance of $1,500 or more during each statement cycle. If you are over the age of 65, you do not have to pay the fee.
Gold Checking has a few extra benefits. This account's fee is higher. It is just under $15 for anyone who does not have a personal loan, credit line or credit card through U.S. Bank. If you plan to use one of those credit products, this account may be the ideal choice for you. One benefit is that you can use out-of-network ATMs twice per month and have the associated fees waived.
Platinum Checking is better if you use out-of-network ATMs often. If you live far from eligible ATMs or travel a lot, this may be a better account choice. The bank waives all out-of-network AMT fees. If you have a personal trust relationship with a wealth manager from U.S. Bank, there is no fee for the account. You can also skip the fee if you maintain a combined total of $25,000 between your U.S. Bancorp accounts. This applies to investments, savings accounts and any other deposit accounts through the institution. The fee each month is just under $25. Although the account also earns interest, the rate can vary and is low. It is usually .01% for most people.
Student Checking is designed for eligible university students. Students do not pay a fee for this checking account. If you are enrolled at a college, you likely qualify for this account for several years. You have a limit of four monthly visits to out-of-network ATMs with no extra charges.
Safe Debit is a paperless account with no overdraft charges. The cost to keep this account is just under $5 per month. It cannot be waived. Also, you cannot write paper checks. If you try to buy something that is more than your account balance, your purchase attempt will be declined without the bank charging you overdraft fees. Unlike the other accounts, you do not receive any out-of-network ATM fee waiving.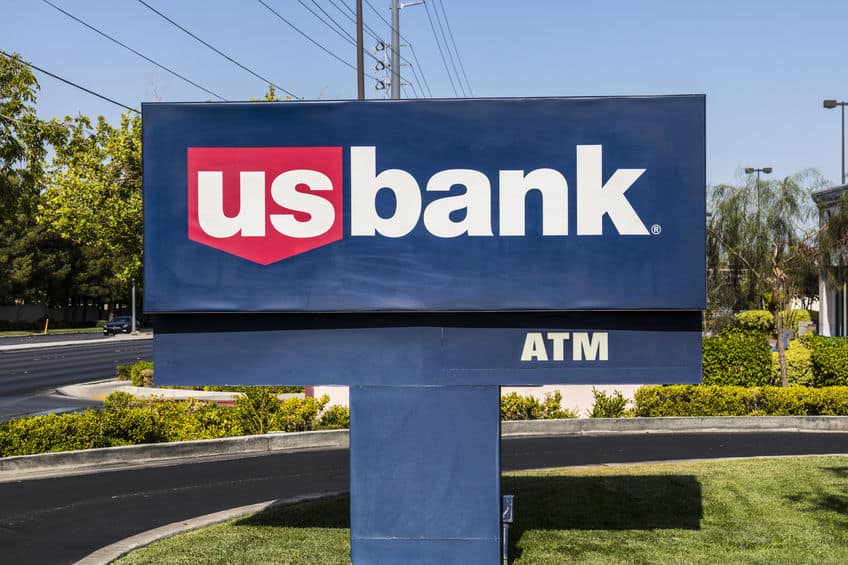 Savings Accounts and CDs
With U.S. Bank, the choices for savings accounts are designed to meet income and deposit variations.
Standard Savings is for beginners and lower balances. You must have at least $25 to open a Standard Savings account. If your balance is $300 daily or $1,000 monthly, you will not be charged the $4 monthly fee. The starting earning rate is .01%.
Elite Money Market Savings is ideal for high balances. For Elite MMS, you must deposit $100 or more to start an account. If your daily ledger balance is $10,000 or more, the $10 monthly charge to maintain the account is waived. Balances under $10,000 earn .04%. If you have more than that and less than $50,000, the rate is .05%. Any balance above $50,000 earns the maximum rate, which is .06%.
There are also savings accounts for higher-tier U.S. Bank checking account customers. These are the special options.
Platinum Select Money Market Savings is for Platinum Checking members. If you are a Platinum member, you can open an account and enjoy saving without any monthly maintenance charges. There is a $25 minimum deposit requirement. Balances between $25 and $10,000 earn .05%. Balances between $10,000 and $50,000 earn .06%, and balances above that amount earn .10%.
Package Money Market Savings is for Gold Checking members. As a Gold member, you can open this account with $25 or more. You will not be charged a maintenance fee. The lowest earning rate is .04%, It applies to account balances up to $10,000. For balances between $10,000 and $50,000, the rate is .05%. It rises to the maximum rate of .07% for amounts over $50,000.
U.S. Bank also has a few CD choices to consider. Nine, 17, 37 and 57 months are the term options. You can deposit between $1,000 and $249,999. The interest rates vary by terms. Customers who use these products rate them highly for the good interest and APY rates. These are the rates:
Nine-month CDs have a 1.85% APY and a 1.83% interest rate.

Seventeen-month CDs have a 1.75% APY and a 1.73% interest rate.

Thirty-seven-month CDs have a 1.85% APY and a 1.83% interest rate.

Fifty-seven-month CDs have a 2.00% APY and a 1.98% interest rate.

Credit Cards
Although it does not offer as many credit cards as some banks, U.S. Bank has several options that fit specific needs.
The Cash 365 American Express card and the Cash Visa Signature card are both good for cash back rewards. Both cards do not have annual fees. If you are not a frequent credit card user, the Cash 365 American Express card is better. It gives you 1.5% back on everyday purchases. For the first year, you will not be charged interest on purchases or balance transfers, and you qualify for a $150 credit if you spend $500 during the first three billing cycles. The Cash Visa Signature card has the same no-interest introductory offer. You also qualify for the $150 credit if you make $500 in purchases during the first few billing cycles. However, you can earn up to 5% cash back on the first $2,000 in eligible purchases. After the zero-interest period with these cards, the interest rises to a minimum of 15.49% or a maximum of 24.99%.
The Flex Perks cards and the Altitude card are good for frequent travelers. The Flex Perks cards come in three tiers. Flex Perks Select gives you rewards that equal $150 in airfare credit if you spend $1,000 during the first four billing cycles. In comparison, the Flex Perks Travel Rewards card gives you $375 if you spend $2,000 during that time. The point rate for the Select card is 1x, and the point rate is double for the Travel Rewards card. If you want a card with an introductory rate of no interest, the Select card gives you that for nine billing cycles. While the Travel Rewards card has an annual fee of $49 and $0 the first year, the Select card never has an annual fee.
The Flex Perks Gold American Express card is the top-tier option. It gives you 3x points for restaurant purchases and 2x points for most gas and travel purchases. You have the chance to earn $450 in airline credit if you spend $2,000 during the first four billing cycles. There is an annual fee of $85. If you travel a lot and want to maximize rewards, the Altitude card gives you $750 in airline credit if you make qualifying purchases of $4,500 during the first three billing cycles. You can earn 3x points on mobile wallet and travel purchases, and you are reimbursed for up to $325 each year for eligible travel expenses. The Altitude card is only for U.S. Bank customers. Its annual fee is $400. If you use the card enough, the $325 credit makes the fee worth it.
The U.S. Bank Visa Platinum card is good for low interest. With no annual fee, most customers rate this card highly for its benefits and low interest. For the first year, you do not pay interest on purchases. Balance transfers do not accrue interest for the first 18 months. The regular interest rate is at least 13.99% and may be as high as 24.99%. A top-rated feature in reviews is cell phone protection, which applies when cellular bills are paid regularly with the card.
A secured credit card is another option with U.S. Bank if you are trying to build or fix your credit. The annual fee is $29, and you have a credit line that is based on your deposit amount. If you shop with Quicken or REI often, U.S. Bank also has co-branded cards with those retailers.
Auto Loans
U.S. Bank has several auto financing choices. You may qualify for an auto loan or refinancing for an existing loan. There are loans for both new and used cars. In reviews, U.S. Bank's new and used auto loans get favorable responses for competitive interest rates. Although your rate depends on your credit and several factors, rates start at about 4.59% for vehicles that have 100% LTV ratio and for loans of about $10,000 with 36-month terms.
Refinancing rates also start at 4.59% for the same criteria mentioned above. Not all vehicles will be approved for refinancing. If your car is old or has high mileage, U.S. Bank may not offer refinancing. Also, cars that are no longer manufactured or serviced in the United States may not be eligible. Check with a representative to see if your car is eligible. Although the auto loans and refinancing options do not apply to RVs and boats, U.S. Bank does offer special loan products for those types of purchases.
Mortgages
If you have found a home that you want to buy, U.S. Bank has mortgage options. The bank also provides guidance and help if you are still looking for a home. There are calculators and links to various types of assistance that you might need if you are a first-time home buyer. These are some of the types of mortgages that U.S. Bank offers:
Conventional fixed-rate loans for buyers who plan to stay in a home for a long time.

Adjustable-rate mortgages for buyers who want a low introductory rate and plan to move within a few years.

FHA loans for first-time home buyers with limited down payment abilities.

VA loans with good terms for veterans and active-duty military personnel.

Jumbo loans with competitive rates for high-value properties.

Investment property loans for multi-family dwellings that landlords want to buy.

New construction loans for people who want to build a new home.

One of the benefits that many customers like is that U.S. Bank offers a pre-qualification process. It can be completed online. Part of the loan process can be completed online as well. If you are a first-time home buyer, U.S. Bank provides a required documents checklist with a breakdown of the mortgage process.
Home Equity Loans
When it comes to financing based on home equity, U.S. Bank offers several options. Equity is the market value of your home minus the mortgage balance. If you have at least 20% equity, you may qualify for one of U.S. Bank's equity loans.
A home equity loan is good if you need one lump sum. If a personal loan is too costly, this type of loan may give you a lower interest rate. You have fixed payments over a fixed period. Most people use home equity loans for home improvements, consolidating debt or big-ticket purchases. There are no upfront fees.
A home equity line of credit is better if you need funds in intervals. This type of credit is ideal if you are working on a home improvement project and may have some unexpected costs. U.S. Bank offers you a line of credit that is based on your equity, and you can take as much as you need during the draw phase. When it is time to repay, you can choose a fixed rate to repay what you owe. There are no upfront fees, and the interest may be deductible on your taxes.
A smart refinance is good if you owe under $250,000. This is a better loan if you want to try to get more favorable mortgage terms or get cash at closing. There are no upfront fees or closing costs, and U.S. Bank offers competitive rates.
A cash-out refinance is better if you owe more than $250,000. This loan comes with closing costs. However, you have access to a lump sum of cash at closing. It is good for getting the funds that you need or for possibly getting better loan terms than your original mortgage.
Personal Loans
U.S. Bank offers both personal loan and credit line products. These are the four choices:
The Premier Loan is better if you want fixed payments, a fixed rate and a lump sum of cash.

The Premier Line of Credit is better for you if you are a U.S. Bank customer and need recurring access to funds.

The Simple Loan is good if you need funding quickly for an unexpected expense that is not too costly.

The Reserve Line of Credit is better if you want backup funding to turn into overdraft protection for your checking account.

Customers whose financial needs were $1,000 or under rated the Simple Loan highly for its online application process, quick decisions by the bank and quick funding. The credit lines and personal loans receive average ratings for services and features. For terms and interest rates, they receive good ratings.
Investing and Retirement
Like its other service categories, U.S. Bank gives customers versatility with investing and retirement choices. For retirement planning, there are rollovers, IRAs and other investment vehicles. There are fixed-income options as well. U.S. Bank gives its customers personalized advice and service. Most customers rate their service and choices highly.
For investing, U.S. Bank gives you a few choices about how you want to approach the process. These are the three main categories:
The automated investing option uses research, information from experts and current trends to help you make choices.

The self-directed investing option through U.S. Bancorp lets you manage your own ETFs, stocks and other accounts.

The investment adviser option gives you access to an expert who will help guide your decisions with research and knowledge.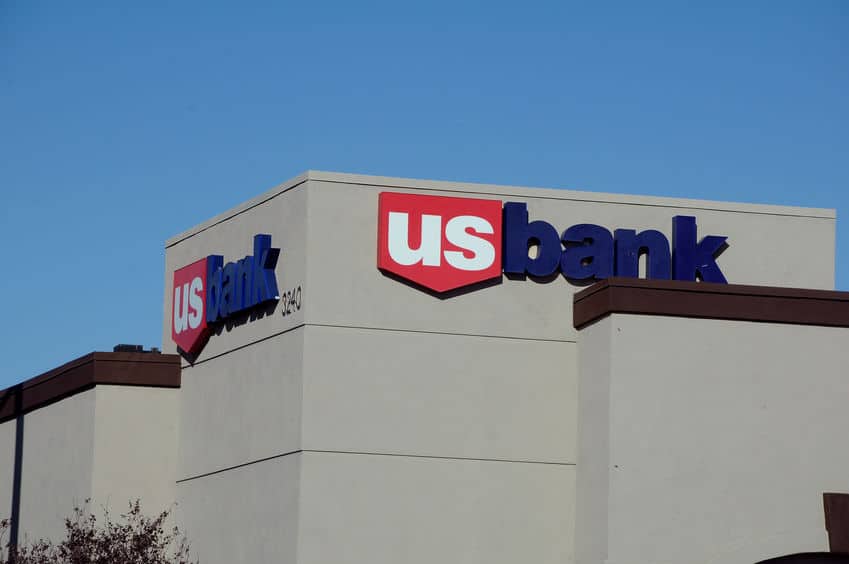 Business Banking
For its business banking features and services, U.S. Bank is mostly rated as average or above average. It offers more options than some banks. As it does with personal accounts, U.S. Bank provides customers with personalized service for their business accounts. These are the business banking choices with U.S. Bank.
There are multiple tiers of checking accounts. You can choose from Silver, Gold, Platinum or Premium for standard checking. Silver is better for smaller businesses with 150 or fewer transactions per month. There are fees for excess transactions with each account, which means that you must carefully assess your needs. The Gold and Platinum accounts are better for growing businesses. Premium is ideal if you want an analyzed account. Also, it does not come with charges for extra transactions. Both the Gold and Premium accounts offer interest earning potential. Although there is no fee for the Silver account, there are fees for the Gold and Platinum accounts. U.S. Bank also has a special checking account option for nonprofit organizations.
There are several savings options. You can choose from money market accounts, regular savings accounts and CDs. For savings, there are two options. The Savings Sweep gives you the chance to earn at least .05% and up to .25%. There are graduated tiers, which are based on your balance. You must have at least $1 million to earn the maximum .25% rate. In comparison, the Basic Business Savings has a low yield of .01% on all balances.
The Platinum Business Money Market account gives you the option to earn up to .40%. Also, there is a bonus rate up to .45% for qualifying customers. The Preferred Business Money Market account's rates vary. They start at just .01% and go as high as .25%. Rates vary depending on balance thresholds from under $1,000 to above $1 million. The Premium Business Money Market account has rates that start at .05% and go as high as .30%.
There are flexible CD options. Five years is the maximum term, and 14 days is the minimum term. You can deposit a minimum of $1,000 and a maximum of $249,999. The rates for the Special CDs are the same as the rates that are listed in the earlier section for CDs. You earn interest and an APY. The Bank Standard CDs come with a wide variation of interest rates and APYs. Most positive reviews praise the competitive rates. Also, some customers prefer the standard option for a lower deposit requirement. The minimum deposit is $500.
Wealth Management
U.S. Bank has several specialized services for customers with a high net worth. The bank has dedicated wealth management advisers who build personal relationships with customers to learn their needs, help them manage changes and help them create ideal strategies. If you have goals, your wealth manager will follow them. However, wealth managers can also provide suggestions and options for you to consider. Special trusts, savings, checking and other account choices are available. Although ratings for this service are limited, most of them are positive.
U.S. Bank Customer Service
On several independent review sites online, U.S. Bank has ratings that are average or below average. Several customers said that they had inadequate help. Some claimed that they were charged extra fees that they did not incur, and they said that customer service representatives would not refund them. Some customers reported being on hold for longer than necessary. However, others said that customer service representatives were helpful, friendly and solved problems efficiently. While most of the negative reviews were about credit card features, charges and fees, most of the positive reviews were for the mortgage customer service department. The auto loan customer service department also had a lot of positive reviews.
Pros of Banking With U.S. Bank
There are several good reasons to choose U.S. Bank over others. These are some of the reasons why customers are loyal to the institution:
You can set up SMS alerts to keep you informed of important account transactions.

You can set up a checking account jointly with a child to teach your kid how to spend responsibly.

You can set up alerts for your online bill payments to help you avoid missing dates and paying fees.

With the mobile app, you can deposit most checks without leaving home.

With online and mobile banking, there is little need to visit a branch.

You can sync location services between your phone and card to help U.S. Bank detect if someone other than you may be using your card.

Cons of Banking With U.S. Bank
Like all banks, U.S. Bank has some drawbacks to its services. These are the main disadvantages that customers report:
Currently, U.S. Bank is limited to about 25 states and is mostly in the West and Midwest.

There are high minimum balance requirements to avoid monthly service fees.

Without a linked savings account for overdraft protection, you will be charged high fees with most checking accounts.

Some of the credit cards do not have ideal reward structures.

If you use ATMs a lot and use them out of your network, you will not be reimbursed if you do not have a top-tier bank account.

U.S. Bank's Competitors
Now that you know what U.S. Bank offers, you can see how it compares to other institutions. These are some of the main comparisons.
Chase
If you cannot meet the waiver requirements, both Chase and U.S. Bank will charge you to keep an account each month. However, U.S. Bank has a lower fee structure. While Chase has more of its own name-brand ATMs, U.S. Bank has a wider network because of its connection with 28,000 MoneyPass ATMs. If you want better credit card rewards and introductory offers, Chase has more favorable options.
HSBC
When it comes to savings, HSBC gets a better grade. There is an online savings account that you can open to earn a 2.05% APY. In comparison, U.S. Bank's rates for standard savings are considerably lower. However, American customers cannot get car financing from HSBC, and U.S. Bank offers loans for new cars, used vehicles, boats and RVs.
Citibank
You may pay lower fees for your checking account at U.S. Bank. Both banks have accounts for students. However, Citibank has better terms and perks for credit cards. This is especially true with introductory offers for paying down balance transfers. In comparison, Citi's introductory period is longer than U.S. Bank's for its average card. With their partnerships with outside ATM providers, both banks have large networks throughout the country.
Wells Fargo
If you cannot qualify for fee waiving, U.S. Bank has more affordable checking accounts. Also, U.S. Bank has a smaller CD minimum deposit requirement. Although Wells Fargo has a better standard CD rate, U.S. Bank has some special CD options and discounts for customers. If you are near the East Coast or West Coast, Wells Fargo may be a better choice because of its wider distribution of branches and ATMs in those areas.
Capital One
If you want a wider network of ATMs, Capital One may be the better selection. Although U.S. Bank has ATMs in smaller towns throughout the Midwest, Capital One also offers free access to partnering ATMs. In comparison, it has about 10,000 more fee-free ATMs than U.S. Bank. However, U.S. Bank has a larger number of branches. Capital One has more credit card terms and features and does not charge you for a checking account.
Bank of America
U.S. Bank has more affordable fees for checking. If you want a bank with access to more ATMs, U.S. Bank gives you access to almost twice as many as Bank of America. However, Bank of America has more branches. Also, Bank of America will give you slightly better rates for standard savings accounts.
Bottom Line
In terms of plentiful features, U.S. Bank is a good choice. Since it has reasonable maintenance fees, it is a good choice if you are not sure about being able to meet deposit or balance minimums each month. It is favorable if you want a bank that can service your auto, home, personal and other credit needs. U.S. Bank is also a decent choice if you want customized strategies for wealth management and access to dedicated advisers for investments. Additionally, it is a favorable choice if you want a wider range of financial services for your business. If you are looking for a bank that offers the best credit cards or no fees for keeping a checking account, this may not be the right bank. It may also not be the right choice if you are looking for a high-yield savings account.