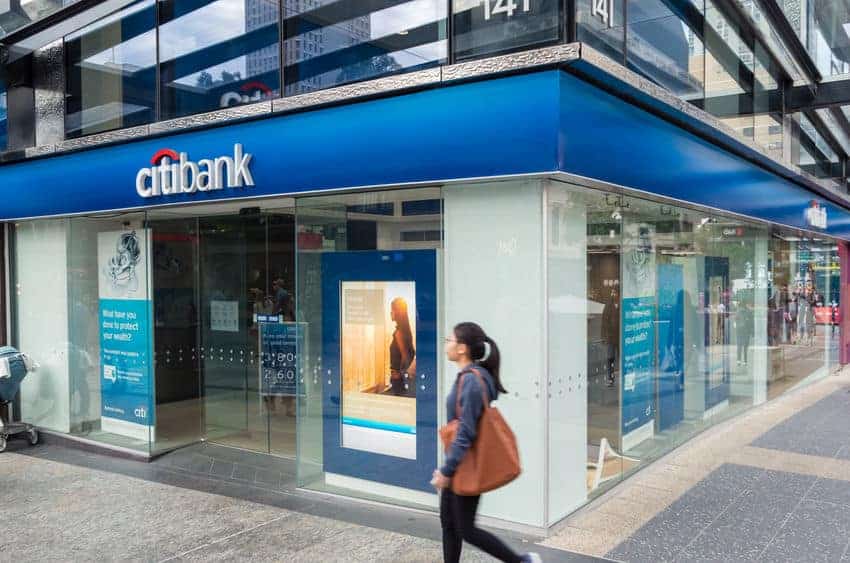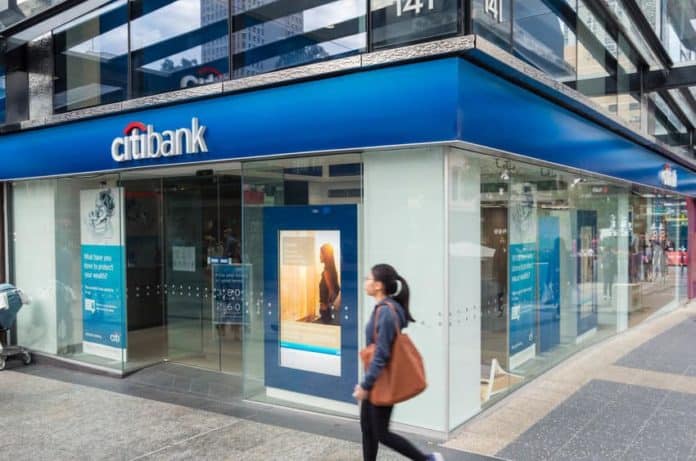 In 1812, City Bank of New York was founded. It went through another name change before it was named Citibank. Today, Citibank is part of Citigroup, which is a multinational conglomerate of financial services providers. It is still headquartered in New York City. Most of the bank's business comes from its American and Mexican customers. However, it also has a few locations scattered throughout Europe, Asia, Latin America and the Middle East. With its wide array of financial services, it is a top choice among many Americans. If you are considering opening any type of financial account with Citibank, these are the most important things to know about the institution.
Table of Contents
How Big Is Citibank?
Citibank, as part of Citigroup, has considerable market share in several areas. In some, it is a leader. For example, it has a modest share of a little more than 1% in the American corporate banking industry. However, it steadily maintained the No. 1 spot for market share in the United States for fixed income services. Its market share was 10% in 2017 and 2016. In each country, there are four banks that are larger than all others, and they are called the big four. Citibank is among the top four in the United States. According to the letter to Citi's shareholders in its 2018 Annual Report, the bank's mobile growth was continuing in Mexico and emerging in more parts of Asia. Citibank is now focusing its growth efforts in the most opportune markets.
Revenue
In a summary of its 2018 Annual Report, Citi reported a net revenue of $72.9 billion and a net income of $18 billion. Although total revenue only showed a slight growth from $72.4 billion in 2017, its growth was greater from 2016. In 2016, total revenue was $70.8 billion. During the third quarter of 2019, Citi reported that revenue grew about 1% from the same period in the previous year. From the same period in 2018, net income grew 6% because of increased revenue and a lower tax rate.
Assets
Citigroup's total assets for the third quarter of 2019 were just over $2 trillion, which showed an increase of 4.66% from the third quarter of 2018. In 2018, total assets for Citi were $1.9 trillion, which was an increase of 4.07% from 2017. Total assets in 2017 were $1.8 trillion, which was an increase of 2.81% from 2016. Citi's total assets increased by 3.52% between 2015 and 2016.
Employees
In 2018, Citi reported having more than 204,000 employees around the world. As it is with all of the larger global banks today, Citi is cutting jobs in some areas and adding new ones in others. Changing needs, economies and technology trends are affecting demand for Citi's services around the world. In early 2019, Citi announced that it would cut about 20 positions of directors in London. Although Citi announced that it would remove hundreds of positions in various areas, it announced that it was expanding and adding more jobs in China, Latin America and the Middle East. Also, some of its new positions will be in private equity. Citi is known for comprehensive benefits and promoting equality in the workplace. In independent review sites online, the company averages about three to four stars for pay, job environment, advancement opportunities and workplace culture.
Number of Branches
Today, Citi holds more than $300 billion in deposits across its branches. The banking conglomerate has more than 4,600 branches around the world, and Citibank itself has about 2,650 branches across 19 countries. It has more than 700 branches in the United States. In November of 2019, the bank announced that it wanted to add more branches. However, a spokesperson said that the branches would be added in areas where there has been consistent and concentrated customer activity.
ATM Network
Citibank made several major overhauls to its services and features during the last few years. One of the benefits was giving customers access to at least 65,000 Citigroup ATMs around the world. In the United States, there are at least 2,400 branch ATMs for Citi customers. Most of them are located in larger cities and metro areas.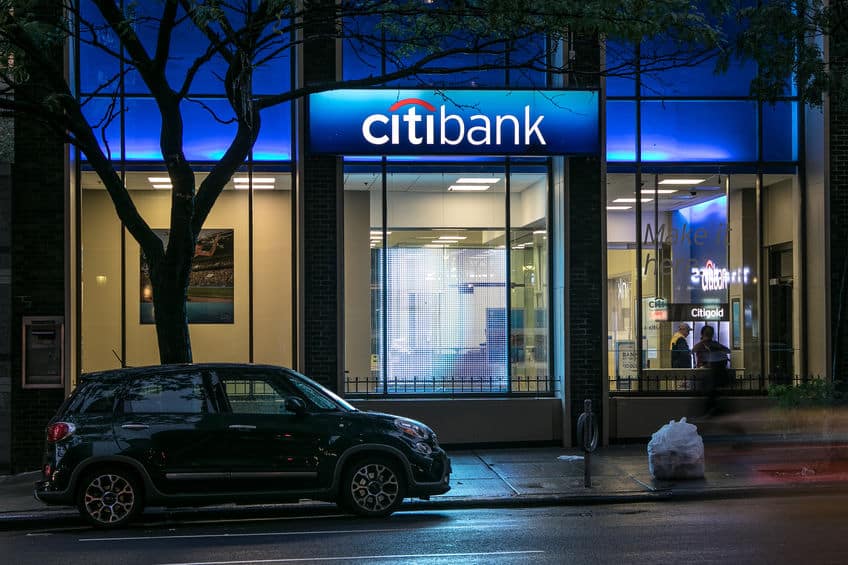 Finding a Citibank Branch Near You
Citibank offers an online search tool to find nearby branches and ATMs. There are options to filter the searches based only on ATMs, only on branches or with both options. Also, customers in larger cities where there are multiple branches nearby can use customization tools on searches. For example, if you live in New York City, you may want a branch that has financial advisers and an international banking center for your specific needs. There are options to filter the results based on those choices and a few others. Unfortunately, Citibank does not serve most rural areas and may have minimal services for smaller cities.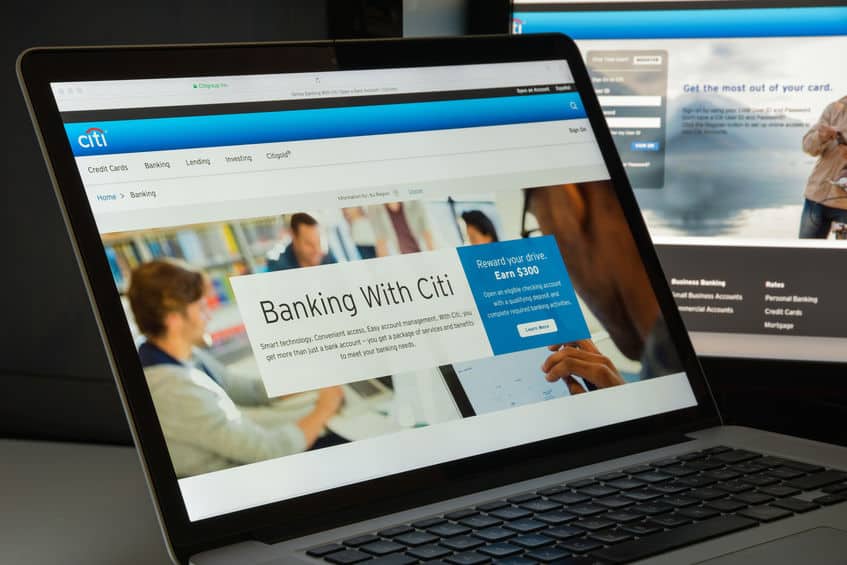 Citi Online Banking
According to its website, Citi states that the online banking feature is useful for anyone who wants to closely monitor banking activity and wants a convenient way to complete several actions. Also, Citi offers rewards for its online banking members. The rewards may vary from time to time, and they are offered with the cooperation of several merchants. Rewards come in the form of rebates or discounts on specific purchases. The online banking platform is free to use.
Features
Citi provides a comprehensive list of features to users. These are some things that you can do if you use the online platform:
Set up online bill payments and sign up to receive bills electronically.

Set up customized mobile alerts for transactions or other activities.

Set up credit card alerts.

Create virtual account numbers for online shopping to protect personal information.

View and print images of checks that were written.

View and print monthly bank statements.

Add an authorized account user.

Set up automation features for a savings account.

Sign up for mobile and online fraud protection.

Use a variety of financial tools for setting goals and more.

Enjoy access to 24/7 customer service through online messaging or phone calls.

Convenience
Citi's online banking platform receives mostly good reviews for its convenient features. Customers like that they can easily send money to most people without having to visit a branch. Another feature that is rated highly for convenience is the 24/7 customer service. Many smaller banks have limited customer service hours for checking account holders. Also, many customers find the mobile alerts convenient. As a customer, you can be notified if your balance is low, if a payment is deducted or if another transaction takes place. Citi is known for good fraud detection measures. It has a good reputation for calling credit card or bank card customers whose cards may have been compromised. If you are looking for a large bank that offers a convenient online platform, Citi's may provide what you are looking for.
Technology
Citigroup maintains a priority of using cutting-edge technology to power its online banking and mobile banking platforms. Like all tech platforms, it has experienced some issues. In early November of 2019, payment features on the app were not working in several locations around the United States. In response to Twitter posts, Citi said that it was working to fix the issue. Citi has a dedicated division for technology services, and the division includes a technology leadership and development program for professionals. According to two of Citi's executives, the financial conglomerate is working on solutions that will address the growth of 5G networks to offer customers improved speed, accessibility and convenience.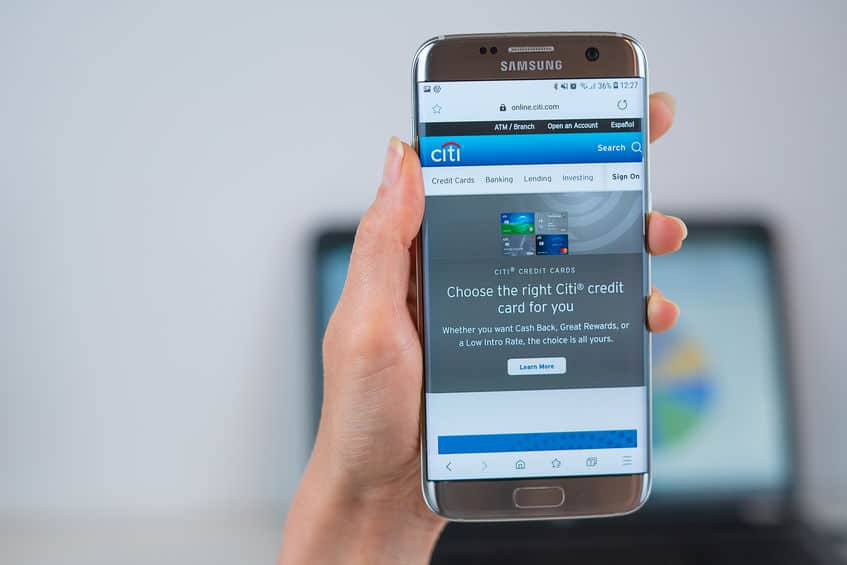 Citi Mobile Banking
Overall, Citi's mobile app has excellent ratings. The app is available for Android and Apple users. Out of over 1.4 million votes among Apple users, the Citibank app has an average of 4.8 stars on the App Store. Its average on Google Play is 4.7 stars from more than 300,000 users. The Citi mobile banking app has several features that make it especially useful for people who are busy but need to do a lot of banking. These are the four main advantages that the app offers:
Mobile Snapshot provides instant access to bank and credit account summaries.

Citi Quick Lock allows cardholders to lock their cards instantly.

Push notifications alert account holders of credit card purchases and bank transactions.

Mobile check deposit allows most checks to be deposited via camera images through the app.

The mobile check deposit feature is a unique option that you cannot use with the regular online banking platform. With the mobile app, you have nearly all the same features that you have access to on the online banking platform. You can view check images, statements and account information with the mobile app. You can also make payments. If you deposit a lot of checks for high amounts, the only potential drawback with the mobile check deposit feature is that there is a limit structure. Although limits are subject to change, the limit for a new account holder is $500 per day. After you have an account for a few months, the limit is $1,000 per day. There is a monthly limit of $3,000. You will need to visit a branch or an ATM to deposit more. If you live far from a branch or an ATM and need to make frequent deposits, this limit rule is an important consideration.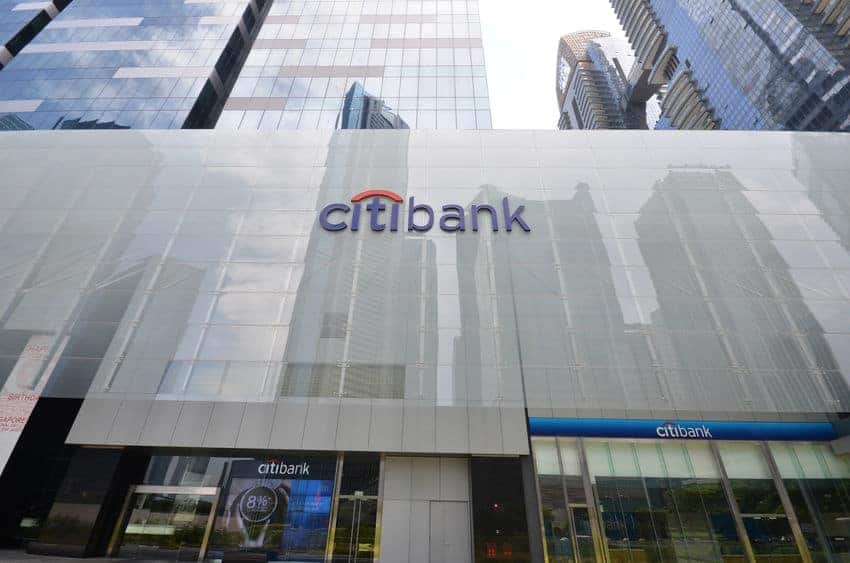 International Banking
As a global financial services conglomerate, Citi offers its customers personal international banking services. The international banking service is based in the United States. According to the website, Citi provides 24/7 access to customer service, online banking features and a variety of automated solutions to make banking easier from wherever you have data or Wi-Fi access. The services are especially designed to meet the needs of U.S. citizens who work or live temporarily abroad. On several online reviews, American expatriates who used Citi's international banking service rated it highly. Since there are time differences in foreign locations, the 24/7 customer service is one perk that some expats rate highly. In addition to personalized banking, there are global solutions for corporations that assign workers abroad. Corporate users can manage multiple Citi accounts to make banking easier and faster.
Financial Services Offered
Citi caters to a wide variety of needs. Most customers who use multiple services rate Citi highly for maintaining good long-term customer relationships. Overall, the services are designed to meet the comprehensive needs of people in each stage of life. These are the main financial services.
Checking Accounts
Citibank offers several checking account choices. How much you want to deposit regularly into the account, how much you want to pay for maintenance and how often you use the account will determine which option fits your needs.
Basic Banking is right for minimal use. There is no minimum deposit or fee to open the account. However, there is a $12 monthly service fee. You can avoid the fee if you sign up for at least one direct deposit each month and make one online bill payment each month. Another way to avoid the fee is to maintain a balance of $1,500. If you are 62 or older and have a Basic Savings account with at least $5,000, you can avoid the fee. You have the option to link a Basic Savings account or a money market account to this checking account.
The Access Account package is useful if you prefer to bank online and avoid overdraft fees. If you do not rely on paper checks, this may be the account for you. Checks are not permitted. If you make a transaction and do not have sufficient funds, the transaction will be declined. However, you will not be charged a fee. There is no fee to open the account, and there is no minimum deposit requirement. The monthly service fee is $10. You can avoid that by maintaining a balance of $1,500, signing up for one monthly direct deposit or having one qualifying bill payment per cycle. If your accompanying Access Savings account has more than $500, the fee is waived.
The Citibank Package is good if you want to avoid ATM fees and maintain a large account balance. There are several rewards with this account. If your monthly balance requirements are met, all ATM fees are waived for non-Citi ATMs. The minimum monthly balance to avoid maintenance and other fees is $10,000 between checking and savings. However, you can combine balances of your other qualifying Citi accounts, such as retirement accounts, to meet that monthly minimum. Otherwise, the monthly fee is $25. There is no minimum deposit to open an account and no initiation fee.
The Citi Priority account is helpful if you want to earn more rewards and have access to preferential rates on other financial products. With this account, ATM fees at non-Citi machines are waived automatically. If you send international wire transfers or receive them often, one feature that you will appreciate is that fees for those are waived. The monthly service fee is $30, and you can avoid that by maintaining a combined monthly balance of $50,000 or higher among your Citi accounts. Savings, retirement and investment accounts through Citi qualify.
Citigold is a good account if you want to maximize points and rewards. There is no service fee for this account. However, you must have a combined balance of $200,000 or more in your checking, savings, retirement and other qualified Citi accounts. Aside from foreign exchange fees, stopped payments and a few other fee-incurring actions, there are no fees. You have unlimited ATM reimbursements. If you live or travel in areas where there are no Citi ATMs and need to use them frequently, this may be a big benefit for you.
Savings Accounts and CDs
You can open a savings account online. Although Citi's checking and credit card accounts are rated highly, its savings options come with mixed reviews. One of the issues that most people report is the limited availability of Citi's best option. The top-tier account is the Accelerate Savings account, which boasts an impressive APY of at least 2.05%. However, it is only available in a handful of states. While this may change in the future, it is something that limits most people to average savings vehicles for now. These are some other Citi savings accounts.
The standard Citi Savings account is useful for larger deposits. If you want to open an account, you must deposit at least $10,000. The APY is 1.60%. While you can withdraw funds at ATMs, there is a $2.50 fee. The monthly maintenance fee is $10.
The Basic Banking savings offers minimal yields. If you do not link this to your Citi checking, there is a $4.50 monthly fee. To avoid it, you must maintain a balance of $500. You must deposit at least $100 to open an account. The APY varies between .04% and .06%. There are varying tiers based on account balance. To reach the top .06% category, you must have more than $500,000.
The Citibank account offers average yields. In comparison with other banks, the rates may be slightly better or average. Rates start at .04% and go up to .13%. However, like the Basic Banking account, you must have more than $500,000 to reach the top APY.
Citigold and Citi Priority accounts are for checking customers. If you have one of these two checking accounts, you can deposit money into an accompanying savings account and earn between .04% and .15%. There are six tiers based on income. The .15% APY applies for balances above $500,000. Although you must meet the same minimum as the checking account to avoid the $30 Priority fee, the Citigold account does not have a fee. There is a minimum account balance requirement of $200,000 to qualify for a Citigold account.
Citi offers several CD options as well. If you want a guaranteed interest rate that is higher than a savings account, a CD may be right for you. CDs are better for short-term earnings. With Citi, you can select your desired term. If you select a term of a year or less, the interest is paid to you either at maturity or on a monthly basis. For terms greater than a year, interest is paid monthly. Upon maturity, CDs renew automatically if you do not choose to renew or cancel them manually. You have a week-long grace period after the maturity date to make changes. Citi's CD options receive good customer reviews for choices. You can choose from a variety of terms and initial deposit amounts.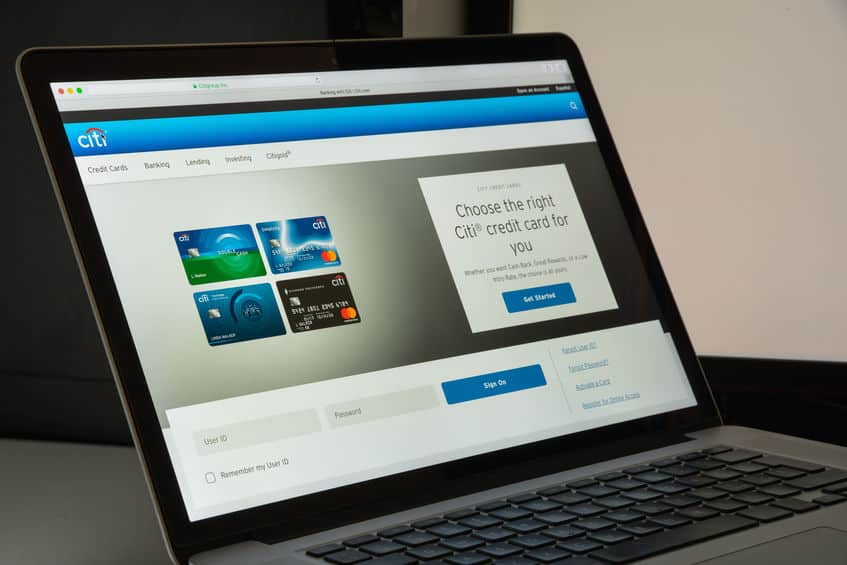 Credit Cards
Citi offers more than 15 credit cards. It has multiple options for Costco, AT&T, Expedia and American Airlines customers. If you are interested in those options, you may want to explore those choices to see which ones meet your needs. These are some of the most popular Citi credit cards.
Citi Simplicity is a favorable choice for balance transfers that take a long time to pay. The standard introductory offer is 12 months with no interest on purchases and 21 months of no interest on balance transfers. After that, the interest increases to a number between 16.24% to 26.24%. Your interest rate depends on your credit details. If you make a balance transfer, the fee is the greater of 5% of the transfer amount or $5. Some of the features that customers especially like about this card are no late fees, no penalty APR and no annual fee.
Citi Double Cash Card is good for earning rewards. With this card, you earn 1% cash back when you make any purchase, and you receive an additional 1% cash back when you pay off the purchase. There is no annual fee. For 18 months, you can enjoy a no-interest period for balance transfers. After that, your interest increases to a rate between 15.49% and 25.49%. If you do not need the full 21 months of no interest, this may be a better balance transfer card than the Citi Simplicity option. With the Double Cash Card, your transfer fee is the greater of $5 or 3%, which is 2% lower than the Simplicity card's rate. This can make a huge difference on a large balance transfer.
Citi Rewards lets you earn rewards for every purchase. This card is also an option for balance transfers. There is an introductory period of 15 months with no interest. It has the same post-introductory interest rate range and balance transfer fee structure as the Simplicity card. With the Citi Rewards card, you earn points on almost every purchase. For the first year, you earn double points at grocery stores and gas stations. There is a cap of $6,000 for this benefit. After that, you earn a point for every dollar that you spend. This card is the only credit card that rounds up to the nearest 10 points for all purchases, which means that you can maximize your earnings. Also, there is an introductory offer of 15,000 points if you spend $1,000 on purchases during the first 90 days after you open an account.
Citi AAdvantage Platinum Select World Elite card is ideal for American Airlines travelers. In addition to bonus air miles, you earn other travel benefits. There are no foreign transaction fees with this Mastercard-powered credit card. If you spend $2,500 on qualifying travel purchases within the first 90 days after you open an account, you receive 50,000 bonus miles with American Airlines. The interest rate varies between 17.49% and 25.49%. The annual fee is $99. However, the fee is waived for your first year.
Citi offers several tiers of these cards or similar ones. You need good or excellent credit to qualify for Citi credit cards. However, if you have no credit or poor credit, there is one option available. The Citi Secured Mastercard is good for building credit. To gain a credit line, you must make a deposit between $250 an $2,500. Your credit line is equal to your deposit, which is held for at least 18 months as security. During that time, you can make purchases with a variable interest rate of 23.99%. This card's features and rates are about average in comparison with secured cards from other banks. However, some other banks have lower maximum credit lines or deposits.
After you get approved, the Citi card activation process can be conveniently done online, by phone, or via their mobile app.
Auto Loans
Citi provides auto financing to some of its customers. For example, there are auto loan options in Pakistan and the Philippines. However, it does not offer vehicle loans in the United States at this time. It does offer personal loans, which may be useful for a down payment on a new car or a major repair for an existing vehicle.
Mortgages
On most review sites, Citi earns about three or four stars for its mortgage services. There are competitive rates for long-term mortgages. The minimum down payment requirement is 3% for some types of loans. If you have a qualifying Citi account that comes with preferential rates, you may qualify for lower rates than what competing banks would give you. Another advantage that customers rated highly was Citi's practice of looking at alternative credit data, such as child support payments and rent history. If you are looking for a fairer assessment of your financial practices, this may benefit you.
While Citi's mortgages are available to people in all 50 states, you cannot complete the process online. If you live in an area that is far from Citi branches, this could be problematic. The origination fees may vary and could be higher for some people. Also, there is a mortgage application fee. If you are considering a loan through Citi, talk to a representative to find out how much the fees will be for the entire process. Citi is known for being upfront about its fee structures in verbal or written conversations. The complete list of fees is not itemized or specified on the site.
Home Equity Loans
Citi offers both home equity loans and lines of credit. If you have a qualifying amount of home equity, you may get a better rate than you would if you use a personal loan. Home equity is the current value of your home minus the balance that you owe on your mortgage.
Citi's home equity loans come with fixed rates. When you want the assurance of predictable payments and know exactly how much money you need, a loan may be the right choice. Five to 30 years is the span of repayment terms that you can select. There are several options between those two numbers. This is a good choice if you want to borrow between $25,000 and $300,000.
Citi's HELOC is good if you are unsure about how much you need. If you have a general idea of how much you need and want a higher limit, this may be the better selection. It is good for people who need to borrow between $10,000 and $1 million. With Citi's HELOC, there are two phases. The draw phase is the time when you can take out what you need. For example, you may want to take out $50,000 for a tuition payment for a child and about $10,000 in multiple draws for a home improvement project. The second phase is the repayment phase. During that time, you repay what you borrowed. You can borrow up to or less than your limit, which is based on your equity.
Personal Loans
A personal loan through Citibank is a good choice for a one-time expense. The loan is unsecured. You may want to consolidate a debt with a higher interest rate. Perhaps you need to pay for a vehicle expense, a home repair or another major cost. Citi's rates vary between 7.99% and 17.99% for most loans. Your interest rate and loan amount depend on how much you request, your repayment period, your income and your credit. If you have existing variable balances, Citi also offers a custom credit line that converts those into a fixed-rate loan to pay off. Rates and fees can vary, and it is important to understand them before you sign up for a loan. For a credit line, you can call for more information. However, you can apply for a personal loan online. Most people rate Citi as average for its terms, rates and personal loan services.
Investing and Retirement
Today, one of the biggest concerns that people have when they plan for retirement is outliving their savings or fixed retirement income. Citi's services are designed to keep this factor in mind at all phases. Citi offers personalized advice and planning tools that help you project your income based on your current choices. You can also compare other options to see what fits your needs and predictions for your needs in the distant future. For retirement and investing products, these are Citi's most popular options:
Traditional and Roth IRAs.

Tax-deferred annuities.

Immediate annuities.

Stocks and bonds.

Managed accounts.

Trusts.

Securities-based lending.

Insurance.

Citi is rated highly for offering personalized advice and planning. While you have access to plenty of online tools that let you view and manage some features, Citi provides expert financial advisers to help you with investments and retirement planning whenever you wish.
Insurance
Since Citi tries to take a holistic approach to providing financial care to its customers, it offers a wider variety of insurance products than some competitors.
Term life insurance is for a specific period. Many customers rate this option highly because it is affordable. You can choose a term, such as 10 or 30 years. The payout is fixed and is made to a named beneficiary if you die during that term. If you outlive the policy, you may renew it at the end of the term for a higher premium. You may also convert it into another policy. However, if you do not take action when the term ends, you lose your investment.
Permanent life insurance never expires. You can take out the cash that you accumulate while you are alive or leave it to a beneficiary. However, using it while you are alive reduces the death benefit. Your payout is based on the accumulated amount.
Cash value policies come in several options. You can choose from whole, universal or variable life insurance. Whole life insurance usually has higher premiums but comes with a fixed payout. Universal life insurance offers more flexible premiums and cash withdrawals without high interest. Variable life insurance gives you flexibility in investment choices. A Citi representative can help you choose a policy that fits your unique needs.
Disability insurance helps replace your income if you are disabled. The government benefits for people with disabilities are inadequate to replace lost income. Financial advisers recommend that you purchase enough coverage to replace between 50% and 70% of your income. If you become disabled, Citi's insurance gives you reasonably quick access to money to meet your monthly expenses and increased medical care needs. Your premium depends on how much of your income you want to replace.
Long-term care insurance provides money to care for you if you are partially or fully incapacitated. Long-term care is often necessary when people are older or are recovering from a serious illness or injury. The cost often depends on your level of coverage and the elimination period, which is like a waiting period. A longer elimination period gives you a lower premium. Long-term care can take place in a medical facility or at your home. Citi is rated highly for helping people find options that meet their needs for couples or single individuals.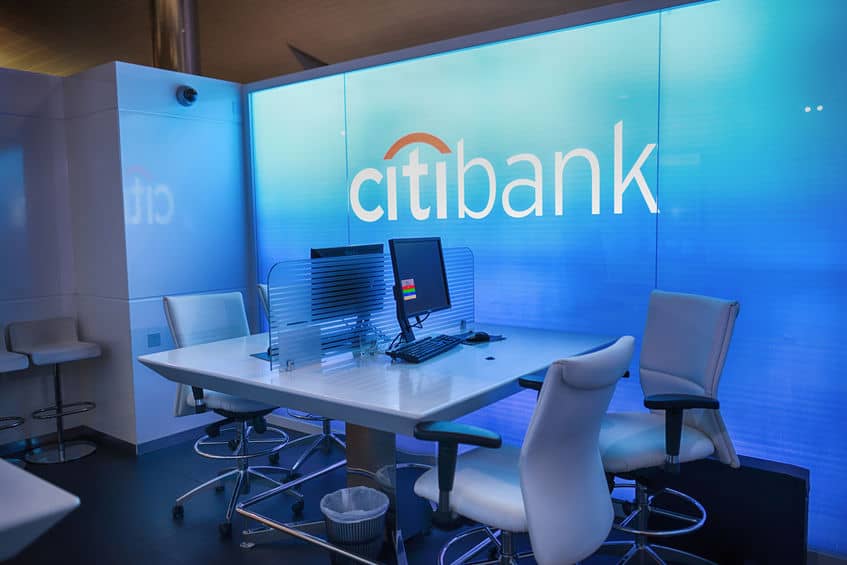 Business Banking
Citi provides its commercial customers with several business banking accounts. For checking, these are the main options:
The CitiBusiness Interest Checking account comes with variable fees, and it is best for businesses that complete fewer than 25 monthly transactions.

With a maintenance fee of $15, CitiBusiness Streamlined Checking is good for small businesses that make no more than 300 monthly bank transactions.

Fees vary by state for the CitiBusiness Flexible Checking account, which is good for up to 500 transactions per month.

With a monthly fee of $22, the CitiBusiness Checking account is better for businesses that make more than 500 monthly transactions.

Citi also offers these options for business savings:
The CitiBusiness Savings account offers competitive rates and no minimum deposit.

The CitiBusiness Insured MMA offers competitive rates, unlimited deposits and a tiered interest rate structure.

The CitiBusiness CD options give you customized ways to earn competitive rates on amounts that you choose.

Credit products are available. Your terms, limits and percentages depend on your credit, income and other factors. These are the business credit options from Citi:
Commercial mortgages.

Business credit cards.

Business installment loans.

Business credit lines.

Citigold Wealth Management
Citigold Wealth Management is designed to meet the needs of individuals who need to find strategic ways to allocate and protect their wealth. These are some of the benefits that customers like about Citigold:
Dedicated managers who offer personalized advice and solutions.

Plans for both short-term and long-term goals.

Access to a full-service team of professionals who are dedicated to your goals.

Access to 24/7 customer service and concierge service.

Citi Customer Service
Customer service is available 24/7 by phone, email or live chat. On most review sites, Citi earns about an average of three stars for customer service. Its highest reviews are with its wealth management services, credit card services and personal banking services. It does not receive excellent reviews for quick human interaction on phone calls. There are plenty of prompts that customers have to patiently follow. Some customers stated that the menu options were confusing and had a hard time selecting the right series of responses to get to a live person. Some people reported being on hold for longer than normal. Although Citi is not an accredited Better Business Bureau member, it maintains a poor rating for responding to complaints slowly on that site.
Pros of Banking With Citibank
Whether the advantages or disadvantages apply more to you depends on your needs. These are the advantages that Citibank offers:
If you live in a qualified state, you may be able to get a high-yield savings account.

You have access to ATMs and transaction services if you travel abroad.

You can make check deposits without having to visit an ATM or a branch.

You can set up online bill payments easily.

There are no minimum balance requirements to open a Citi checking account.

If you need overdraft protection, Citi offers that as a complimentary feature with its checkless account.

There are multiple contact options for customer service.

Cons of Banking With Citibank
These are some disadvantages that may make you reconsider an account with Citi:
No-fee ATMs are limited to larger cities and metro areas.

In comparison with competitors, CD and regular savings rates are low or average.

Some financial processes, such as mortgages, must be completed at a branch.

If you are looking for a bank where you can do all types of business, keep in mind that Citi does not offer auto financing.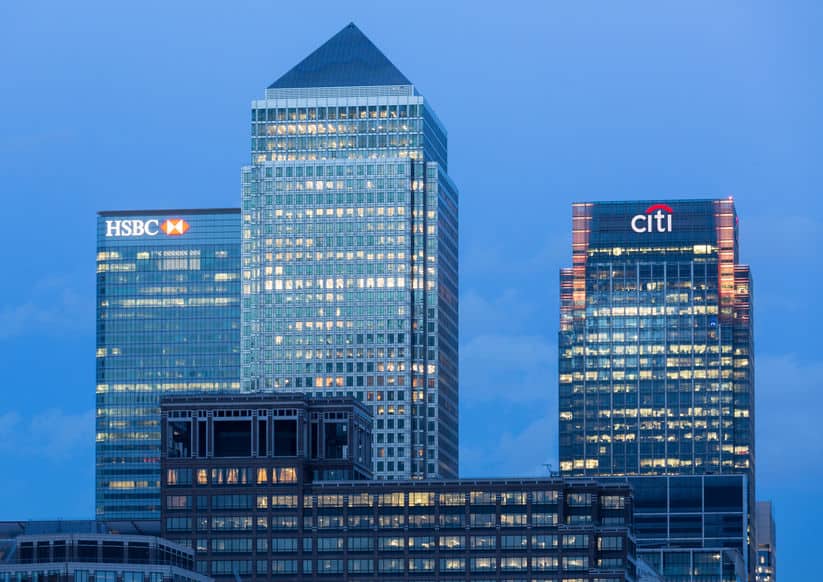 Citibank's Competitors
As you think about a bank to choose for one or more financial accounts, it is helpful to know how Citi rates among its top competitors. These are a few important points.
Chase
One clear advantage that Chase Bank offers is auto loans with competitive rates and terms. Citi does not offer any auto loans to Americans. Both banks have fees for checking accounts. Although both banks offer low interest rates for regular savings accounts, Citi's earning rates are higher. Apart from the checkless account with Citi, Chase has lighter overdraft charges.
HSBC
If you are a homeowner who needs money, one advantage that Citi offers is access to HELOC and home equity loan choices. However, HSBC only offers a HELOC. Both banks offer ATM fee reimbursement options to high-level members. Also, both banks have limited ATMs in the United States, and this is especially true outside of metro areas. HSBC and Citi both offer a high-yield savings option. However, Citi's is only available in a few states.
Wells Fargo
For checking accounts, Wells Fargo offers lower maintenance fees. However, Wells Fargo has a minimum deposit, and Citi does not require a minimum deposit. Citi also has higher earning rates for its CDs. Wells Fargo does not have as many international banking benefits as Citi.
U.S. Bank
Both banks provide 24/7 customer service. With Citi, you have the chance to earn a higher APY with a CD. U.S. Bank has nearly twice as many ATMs across the United States. It also has more branches. However, most branches and ATMs are limited to larger cities or urban areas.
Capital One
Capital One may offer better savings rates if you do not qualify for Citi's Accelerate Savings account. Also, Capital One's CD rates are better. Citi has more branches. Also, Citi has more mobile banking features. If ATM access is important to you, you may prefer Capital One for its access to 39,000 fee-free ATMs in the United States.
Bank of America
Bank of America offers just as many or more mortgage, home equity and refinancing options as Citibank. For most CDs and regular savings accounts, Citi offers better rates. Bank of America has more than 15,000 ATMs across the country. However, its accounts come with maintenance fees and steep overdraft charges. In comparison, Citi offers one account option that never has overdraft fees.
Bottom Line
If you are an existing Citi customer, you have access to a wide range of rate discounts and other benefits when you open additional accounts. Citi is a good choice if you make purchases through American Airlines, Costco or Expedia frequently. If you like to earn rewards on purchases to use for gift cards, Citi's credit cards are useful. If you need international access to your money at foreign ATMs in major cities, Citi may be a good choice. However, you should make sure that you can meet any account balance requirements if you do not want to pay maintenance fees for checking or savings accounts.