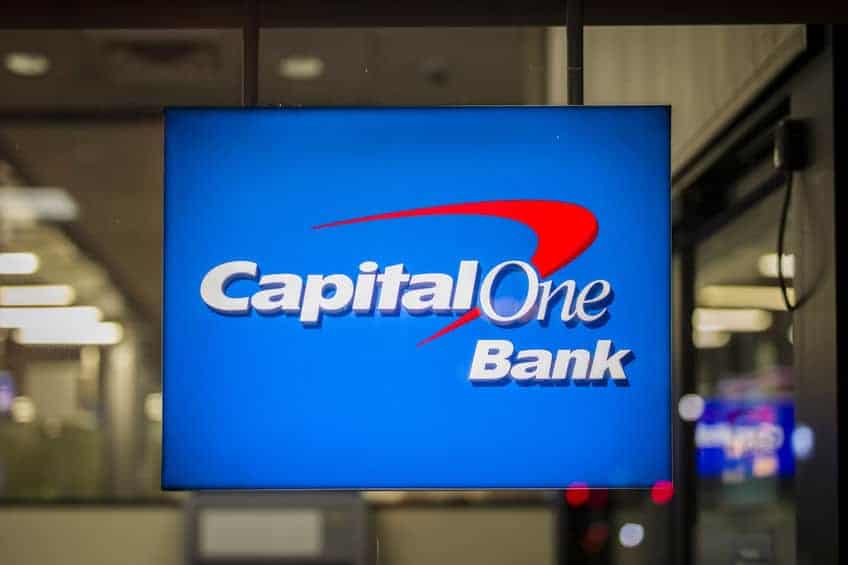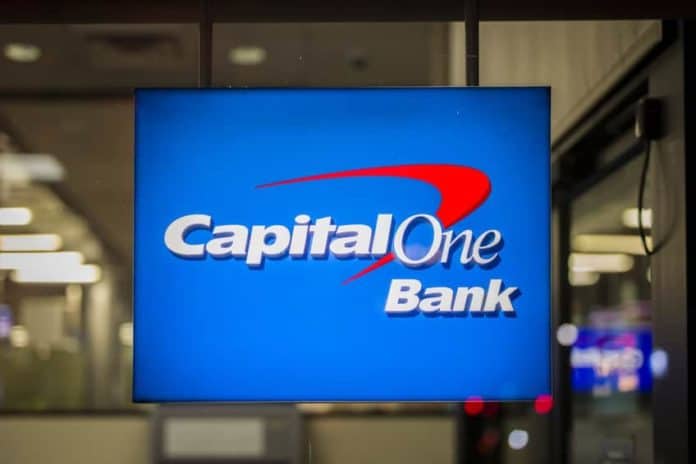 In terms of assets, Capital One is among the top 10 largest banks in the United States. It is headquartered in McLean, Virginia. In addition to its American customers, the bank serves people in the United Kingdom and Canada. It has more than 750 branches and is ranked among the top 100 institutions on the Fortune 500 list. Capital One's pioneering efforts in offering credit cards to masses of people in the 1990s helped it grow into the large financial services provider that it is now. Today, it still focuses heavily on its credit card services. In 2016, Capital One was one of the top five largest credit card issuers in the world.
Table of Contents
How Big Is Capital One?
Capital One's biggest market share is in the credit card industry, which stands at nearly 9%. Capital One recently made the news when it started servicing Walmart credit cards through a major co-branding partnership. There is also a private-label card. Walmart had used a smaller bank in the past. In the consumer banking and commercial banking industries, Capital One Bank's market share is less than 1%. However, it has a sizable presence in the auto loan industry and maintains a market share of about 5%. In the third quarter of 2019, the bank's market cap was $41.9 million.
Revenue
Capital One's annual revenue in 2018 was $32.38 billion, which represented a growth of 7.9% from the previous year. At nearly $30 billion, its 2017 revenue showed a growth of more than 9% from 2016. Its revenue growth was almost 10% between 2015 and 2016. In 2018's final quarter, 75% of Capital One's revenue came from its credit card accounts. Nearly 15% came from consumer banking, and the remaining revenue came from commercial banking services. In the third quarter of 2019, its revenue was $8.297 billion, which was an increase of 2.8% from the prior year.
Assets
Capital One had about $373 billion in assets in 2018. This was a 1.87% increase from the previous year. In 2017, its growth was up 2.43%, and its asset growth was 6.88% between 2015 and 2016.
Employees
Richard Fairbank is Capital One's founder and CEO. In 2018, the bank had more than 43,000 employees. Some reports showed that it had more than 48,000 employees in 2019. In 2018, Capital One made the Fortune 100 Best Companies to Work For list and ranked among the top 20. It has consistently earned a spot on that list for 12 years, and it held the same place in 2018 as it did in 2017. One of the aspects that employees like about the company is its incentive to give back to communities that it serves. According to the CEO, employees put in nearly 395,000 hours of volunteer work during 2017. Another aspect of the bank that employees like is its benefits package. In addition to good health coverage, it offers more personalized care. For example, employees and their families have the ability to review more than 200 conditions and related research to make more informed treatment choices.
Branches
In the age of mobile banking's growing popularity, many banks are closing some branches. However, Capital One is looking for innovative ways to bring people back. It has more than 750 branches around the world. In the United States, it has at least 30 cafe locations, which are bank branches with a more comfortable atmosphere for customers to relax and learn about their choices. At Capital One cafe-style branches, customers can enjoy free Wi-Fi, comfortable seating and access to power outlets. The cafes serve baked treats that are made locally and Peet's coffee, and Capital One cardholders get 50% off handcrafted beverages. They have access to financial coaching and other benefits.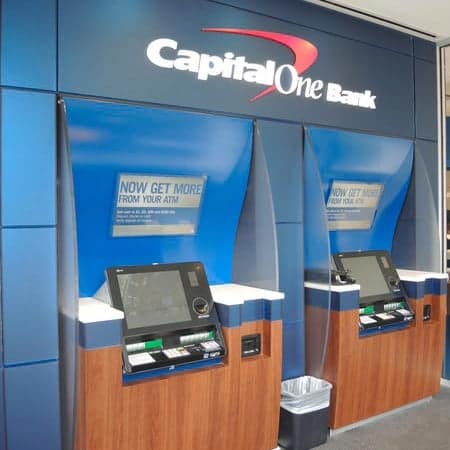 ATM Network
According to the company's location page, it has a network of more than 39,000 ATMs. At the ATMs, Capital One 360 customers can withdraw money, check account balances and make cash or check deposits with no fees. At some locations, customers can even make deposits after normal hours.
Finding a Capital One Bank Near You
There is a search feature on the company's site to help you find the nearest branches. You can enter your zip code or city name to see relevant results. Also, you can customize your search to include branches, ATMs and cafes. Most Capital One branches and cafes are in larger cities and metro areas. If you are a customer who has a 360 Checking account, you can use the site to search for in-network ATMs near you to make deposits or withdrawals. If you live in a small town that is far from Capital One's main services, the good news is that there are often one or more fee-free Allpoint ATMs within a reasonable distance. When you use the search tool, be sure to click the filter option that includes Allpoint locations.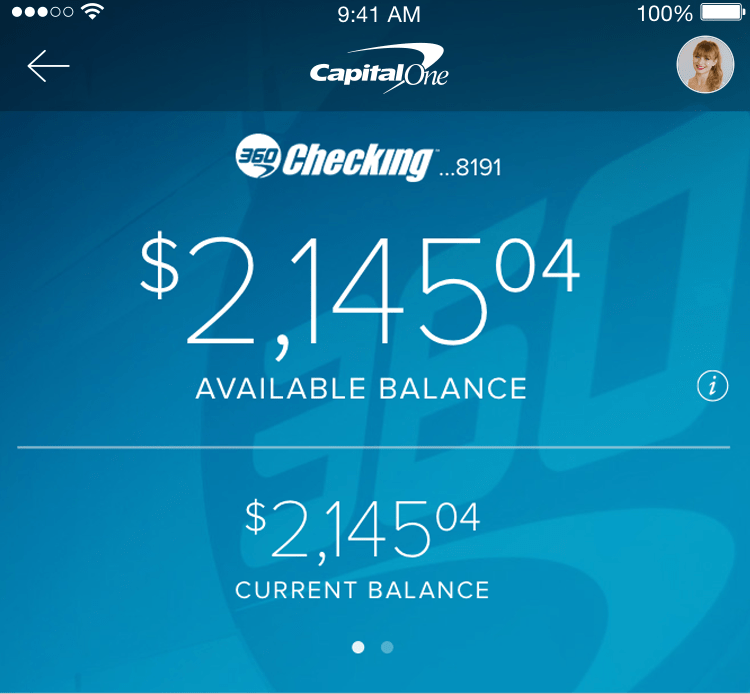 Capital One 360 Online Banking
Capital One's growth continued after it added an online banking platform. You can access the features on a computer, tablet or smartphone by logging into your personal account. Its features were designed for people who have fast-paced lives and limited time. Overall, most customers rate their experiences with the mobile banking system positively.
Features
When you use Capital One's online banking system, you have access to these useful features:
Schedule or make bill payments electronically.

Complete fund transfers.

Lock or unlock your bank card.

Sign up for direct deposit.

Access your CreditWise information.

Send money through Zelle.

Set up other accounts online.

Convenience
Most customers who use the online banking system from a laptop or desktop computer rate it highly. If you do not have a computer, you may prefer the mobile app, which will be covered in the next section. Customers like that they do not have to visit a bank branch to make money transfers. Some customers also like that they can set up special accounts online for various purposes. For example, they may set up special spending accounts for seasonal expenses, a vacation or another temporary purpose.
Technology
Since Capital One focuses heavily on credit cards, technology and security are two of its biggest priorities. Its technology for online business banking is especially advanced. For example, its Confyrm technology gives business customers the ability to reduce fraud risks with advanced account on-boarding of trusted customers or non-customers. It uses high-grade security for personal account holders as well.
Capital One's technology efforts are competitive and ongoing. In 2016, the financial institution's CIO announced that Capital One was working to become a technology leader. It boosted its cloud infrastructure through a partnership with AWS. There were transformations to the IT team and the company culture. During the past several years, Capital One has hired thousands of software engineers, and it has a top-rated technology development program for IT students. The planned technology advances will give both private and commercial online banking customers more choices and greater service efficiency.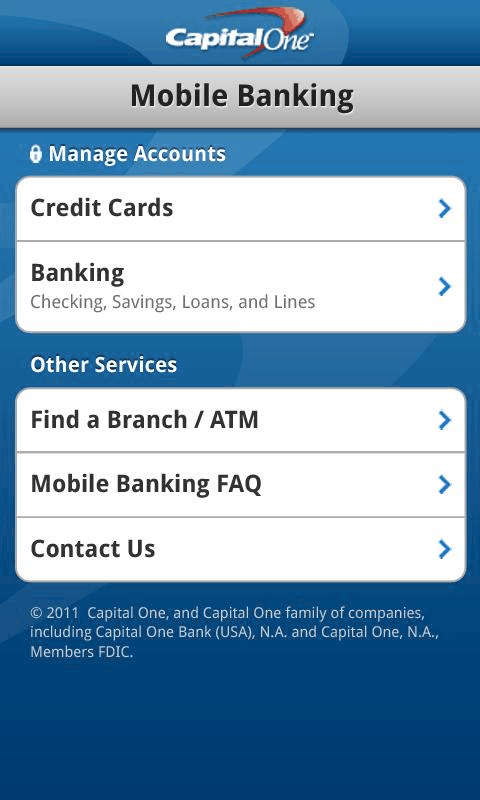 Capital One Mobile Banking
The mobile banking app from Capital One is available for Android and Apple device users. It is free to download and use. With this app, account holders have access to the same features that were listed in the online banking section. However, mobile banking comes with an extra perk that the regular online platform does not offer, which is the mobile check deposit feature. Instead of driving to a bank or an ATM to deposit a paper check, you can take a photo of the check through the app. Depending on your account type and status, there is a daily amount limit for mobile check deposits. The app will show you your limit. If you live in a rural area that is far from any Capital One or Allpoint ATMs, this benefit may be especially attractive to you.
With the mobile app, you also have access to spending tracking. Whenever your card is used to make a purchase, you can opt to receive a mobile notification. You can also access Zelle to send money. For credit card accounts, you can track and use your rewards. The app also allows you to see transactions and view your bank statements.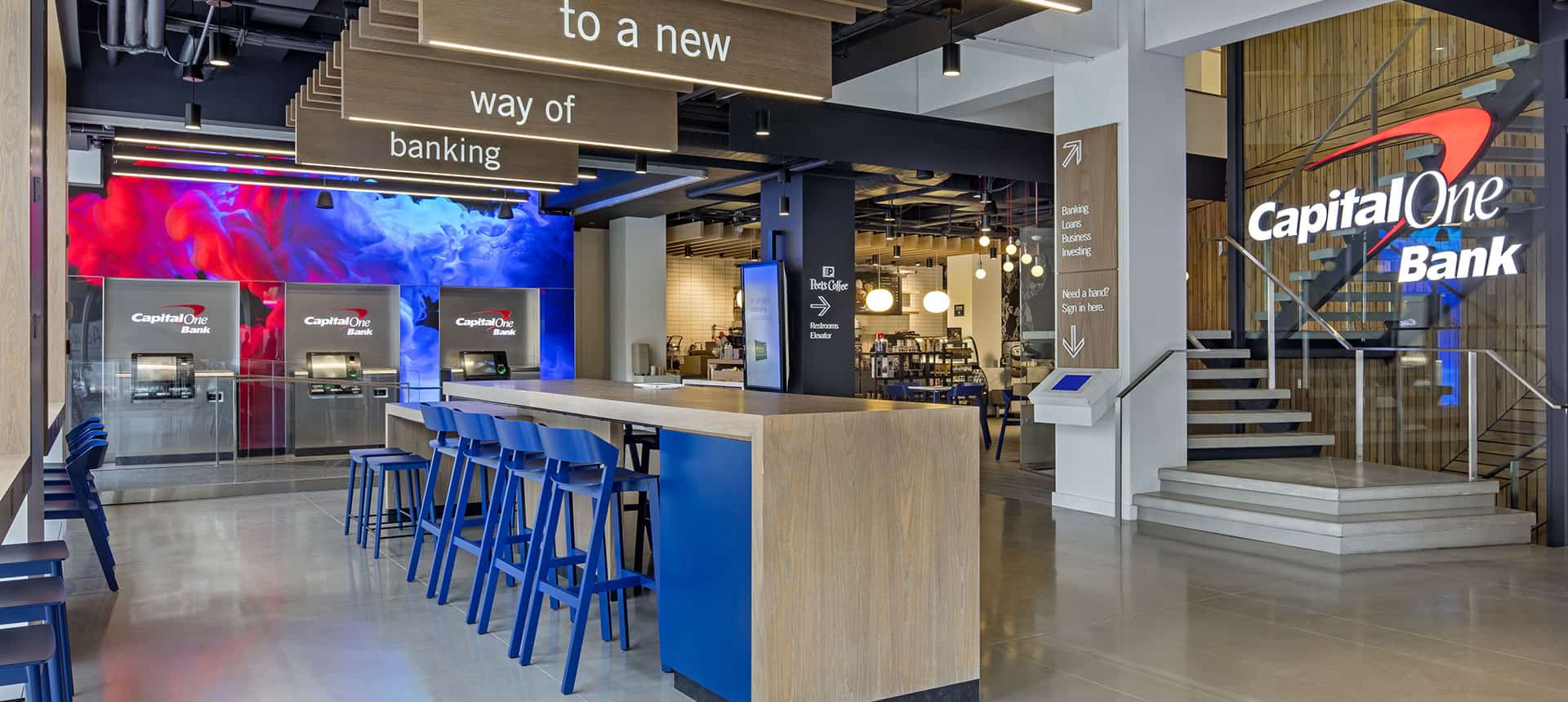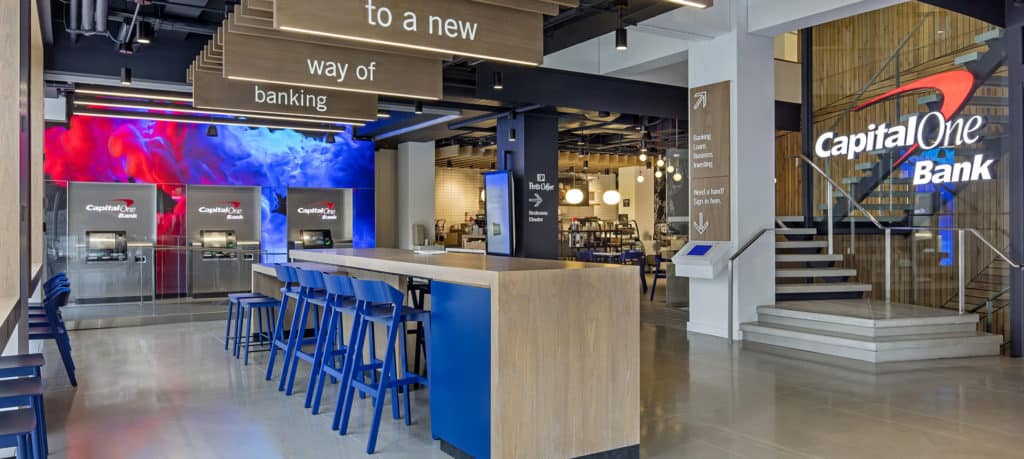 Capital One Financial Services
Although its credit cards are what made it a giant in the world of finance, Capital One has enough financial services to meet most needs of businesses and individuals. Most of Capital One's banking customers are in larger cities. One of the main reasons why the company opened cafe locations was to educate people about Capital One's many financial services. If you are near a cafe location or a bank branch, you can compare your choices and get the most detailed information by visiting one of them. However, these are some of the top-rated services that the institution offers.
Checking Accounts
If you can manage your checking account through the mobile app or live in a big city near bank branches, a checking account with Capital One may benefit you. However, if you live in a rural area and are not comfortable using mobile banking, you may find it difficult to manage an account with Capital One.
The 360 Checking account is free to maintain. One of the reasons why the 360 Checking account makes so many lists for the best online checking accounts is because it is free to use. You can even open it online without visiting a bank branch. There is no minimum deposit requirement. Also, you earn interest on any size of balance. However, the APY is higher for larger balances. For example, you earn .20% APY on balances under $50,000 and .50% APY on balances above $50,000.
Unlike some basic checking accounts with other large banks, you do not have to maintain a monthly minimum balance or sign up for direct deposit to avoid monthly maintenance fees. There are no fees for depositing checks through the mobile app. You will only be charged fees if you overdraw your account without any protection plan, choose rush delivery for a new card or checks or issue a request to stop a payment on a check that you wrote. If overdrafts have been a problem for you in the past, the account does offer some customized overdraft protection options. However, you have to manually opt in and choose one of four options.
When it comes to bank accounts that offer mobile check deposits, this is one of the few that is completely free. For this reason, it is highly recommended by customers.
The Money account is ideal for teens. Designed specifically to help adolescents learn how to become responsible spenders, this account has plenty of controls for concerned parents. Like the 360 Checking option, the Money account does not have any monthly minimum balance requirements, minimum deposit requirements or maintenance fees. Teen users can access their accounts via the mobile app. Also, they receive a free debit card for making purchases. They earn a balance interest of .25% APY.
One of the account features that parents rate highly is the text alert system. Parents receive real-time text updates about spending and can see when the teen's account balance is getting low. This gives parents the ability to identify spending habits and have discussions with their kids about irresponsible habits and praise good habits. There are also features that help teens work toward their goals and monitor progress.
Kids as young as eight years of age can sign up for an account with the help of a parent. Since it is a joint account, parents always have control. Once a Money account holders turns 18, the young adult can choose to convert it into a personal 360 Checking account instead.
Savings Accounts and CDs
Capital One has several savings options for customers of all ages. Although you can earn interest back on your checking account balance, the percentages may be higher with savings accounts or CDs.
The 360 Performance Savings account offers a great rate for any balance. In comparison with the national average, the percentage for this account is five times higher. It is 1.90% APY. That applies to balances of all sizes. One aspect of this account that customers especially like is that they get to keep everything they earn. This is because there are no monthly maintenance fees. Also, the money is not invested in stocks. If you are far from a bank branch, you can open a 360 Performance Savings account online. You can withdraw money as needed from the account if you transfer it to checking. However, there is a limit of six convenience transfers per month.
Another possible purpose for this account is to use it as a supplemental estate planning tool. If you are looking for a high-yield savings option with no fees or loss risks, it offers those benefits. You can name up to 10 people as beneficiaries to receive funds after your death.
The Kids Savings account is good for teaching kids the purpose of saving. If your child has $1 or $1,000 saved, it is possible to open an account. There are also no minimum monthly balance requirements or maintenance fees. Kids earn 1.00% APY on balances. If you link your account, you can set up regular allowance deposits to go into a child's account automatically. Also, kids can deposit cash or checks at ATMs or branches. There are kid-friendly features that show them their progress and help them understand how their money grows. While they can check a balance by signing in, they will need parental help to transfer any money into another account. Kids are limited to six convenience transfers per month. Since kids can access the joint account, it is not considered a trust. With a trust, a child must usually reach a certain age to access the funds.
The 360 IRA Savings options are good for retirement planning. With Capital One, you have the choice between a traditional IRA or a Roth IRA. The APY is .80%. For both types of accounts, one feature that customers like is that there are no monthly maintenance fees or fees to set up an account. An IRA is a good choice if you have long-term savings goals. If your goals are shorter, a CD or a savings account may be better.
The biggest choice is picking between a traditional or a Roth IRA. There are several differences between the two, and those differences hold true for all issuers. With IRAs, the biggest issue is how and when you get a tax break. As a rule, people who expect to have a higher tax rate after they retire pick a Roth IRA, and people who predict a lower tax rate after retirement choose a traditional IRA. It is best to speak to your accountant or financial adviser to determine which option is right for you and to explore the details of each.
There are three 360 CD account options for varying periods. If you want to save for a down payment on a house, a new car or another expense, a CD may be right. There are options of 12, 24 and 60 months. With Capital One's CDs, you have choices for interest payments. You can receive them monthly, annually or at maturity.
The biggest differences between the three CD deposit periods is the APY. For the 12-month CD, the APY is 2.20%. It decreases to 1.80% for the 24-month CD and is 1.60% for the 60-month CD. As it is with other Capital One accounts, there are no maintenance or startup fees. Also, there is no minimum deposit requirement. Each of the accounts are insured by the FDIC, and there are no market risks with any of them.
If you must withdraw your money early, there is a penalty that is equal to three months of interest for the two accounts with shorter terms. For the 60-month CD, the penalty is equal to six months of interest. If you think that you may need to withdraw your money early, it is better to set up a savings account. However, if you are sure that you can leave some money to mature for a year, the 2.20% APY offers you a greater return on your investment than a regular savings account with Capital One.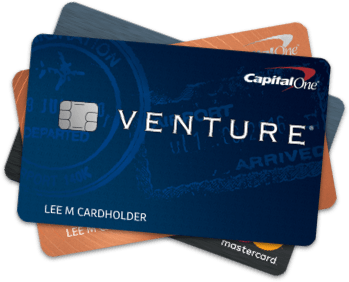 Credit Cards
Some merchant cards are co-branded with Capital One, such as the Walmart credit card. However, Capital One offers several of its own cards. Each one has its own purpose. With all cards, you have access to 24/7 customer service. Thanks to Capital One's advanced technology efforts, you can apply for credit cards online and can find out instantly if your application is approved or rejected.
The Platinum card is good for new credit card users. If you are rebuilding your credit or building it for the first time, this card is designed to help you. Most people with average credit can qualify for it. One of the benefits that cardholders like best is that there is no annual fee. The variable APR is 26.99%. After you make the first five payments on time, you qualify for a credit limit increase.
The QuicksilverOne card is good if you like rewards. If you are someone who plans shopping trips and purchases based on what your credit card company offers you for cash rewards, this card may be right for you. With any purchase, you earn 1.5% cash back. To redeem your rewards, you can use them toward purchases, request a check, use them as statement credit or cash them in for gift cards. Like the Platinum card, it has a 26.99% variable APR. However, unlike the Platinum card, it has an annual fee of $39. You can usually get a higher credit limit or better increases with this card. Most people with average credit qualify.
The Quicksilver Rewards card is good for balance transfers. This card is somewhat different than the QuicksilverOne card. You get an introductory period of no interest for 15 months. If you transfer a balance during that time, the fee is 3%. You also have the opportunity to earn $150 cash back if you spend $500 in the first few months. There is no annual fee for this card, and the interest rate after the promotional period may vary between 15.74% and 25.74%. You will need excellent credit to qualify for this card.
The VentureOne card is good for traveling. This card lets you earn 1.25 miles for every dollar that you spend. This applies to all types of purchases. For the first 18 months, there is no interest. After that, the variable APR may be between 13.74% and 23.74%. There are no annual or transfer fees. If you spend $500 during the first 90 days after you open an account, you can earn 5,000 bonus miles. To qualify for this card, you need excellent credit.
The Venture Rewards card is good for frequent travelers. This card is like an enhanced version of the VentureOne Rewards card. You can earn double the miles on every dollar that you spend on any type of purchase. If you spend $3,000 during the first 90 days, you earn 50,000 bonus miles. Unlike the VentureOne card, you do not receive an introductory period of no interest. The variable rate is between 17.49% and 24.74%. There are no transfer fees. For the first year, there is no annual fee. After that, the annual fee is $95.
The SavorOne Rewards card is good for dining and buying groceries. If you dine out sometimes and shop frequently, this card helps you earn money back on what you spend. You earn 3% cash back on most dining and entertainment purchases and 2% cash back on grocery purchases. For all other purchases, you earn 1% cash back. For the first 15 months, there is no interest. The variable rate after that may be between 15.74% and 25.74%. If you spend $500 in the first 90 days after you sign up, you earn an extra $150 cash back. If you transfer a balance, the fee is 3%. There is no annual fee. This card usually requires excellent credit to qualify.
The Savor Rewards card is good for dining out frequently. This card gives you a little extra cash back on food and entertainment at a rate of 4%. Like the SavorOne card, it still gives you 2% cash back on grocery store purchases and 1% cash back on all other purchases. There is no interest-free period. The interest rate varies between 16.24% and 25.24%. While there are no transfer fees, there is an annual fee of $95 after the initial fee-free year. If you spend $3,000 during the first 90 days, you get $300 cash back as a bonus. You need excellent credit to qualify.
The Journey Student Rewards card is good for college students. If you are a college student who wants to build credit with no existing credit or average credit, this may be the card for you. It does not have an annual fee. Like the Platinum card, the variable APR is 26.99%. A unique perk of this card is that your earning rate increases to 1.25% cash back if you make your monthly payment on time each month. If you do not pay on time, you earn 1% cash back, which applies to all types of purchases.
The Secured Mastercard is good for repairing poor credit. If your credit is bad, there is still an option for you with Capital One. You can make an initial deposit of $49, $99 or $200. Your deposit unlocks a $200 credit limit. Customers who use this card rate it highly for the fair interest for people with bad credit. The variable APR is 26.99%. If you make five consecutive monthly payments on time, you can access a higher credit limit. There is no annual fee.
With Capital One credit cards, you have fraud liability coverage, which means that you are not financially responsible if the card is used after it is stolen or lost. You also get access to Capital One's CreditWise program with most unsecured cards. CreditWise lets you track your credit score and credit report changes. The program is powered by TransUnion. If you download the Capital One mobile app, you can access and manage your credit card account with it. If you wish, you can add an authorized user to an unsecured credit card account. Also, you can set up custom alerts, monitor recurring transactions and set up automatic payments. Each card also comes with additional perks, which you can see when you compare cards on Capital One's site.
Auto Loans
Capital One offers loans for new and used vehicles. Also, it offers refinancing to some customers. On the website, you can get a free pre-qualification decision with no risk to your credit score. Once you are pre-qualified, you can use the app to see cars from participating dealers. You have options to customize your search with your budget limitations for total cost, monthly payments and more. After that, you can visit a dealer with a loan that is ready to be activated if you decide that you like a vehicle. There are some restrictions with your offer. These are some examples:
The vehicle cannot be more than 10 years old or have more than 120,000 miles.

You cannot buy an Oldsmobile, a Suzuki, a Daewoo or any other discontinued make.

You cannot buy an RV, an ATV or a motorcycle.

The vehicle cannot be a former commercial vehicle or a known lemon.

With the year and mileage restrictions, you may be able to buy a car that is older if the miles are reasonable. For example, imagine that you find a car that is 11 years old and only has 50,000 miles. It may be approved.
When you refinance your existing auto loan through Capital One, you may get a better rate. According to the company, customers can save an average of about $50 to $75 per month if they qualify for a better rate. As it is with regular auto loans, Capital One will not refinance ATVs, RVs, boats or motorcycles. Also, it will not refinance Oldsmobile, Suzuki or other vehicles that are discontinued in the United States. To qualify for refinancing, your vehicle must have an established resale value and must not be more than seven years old.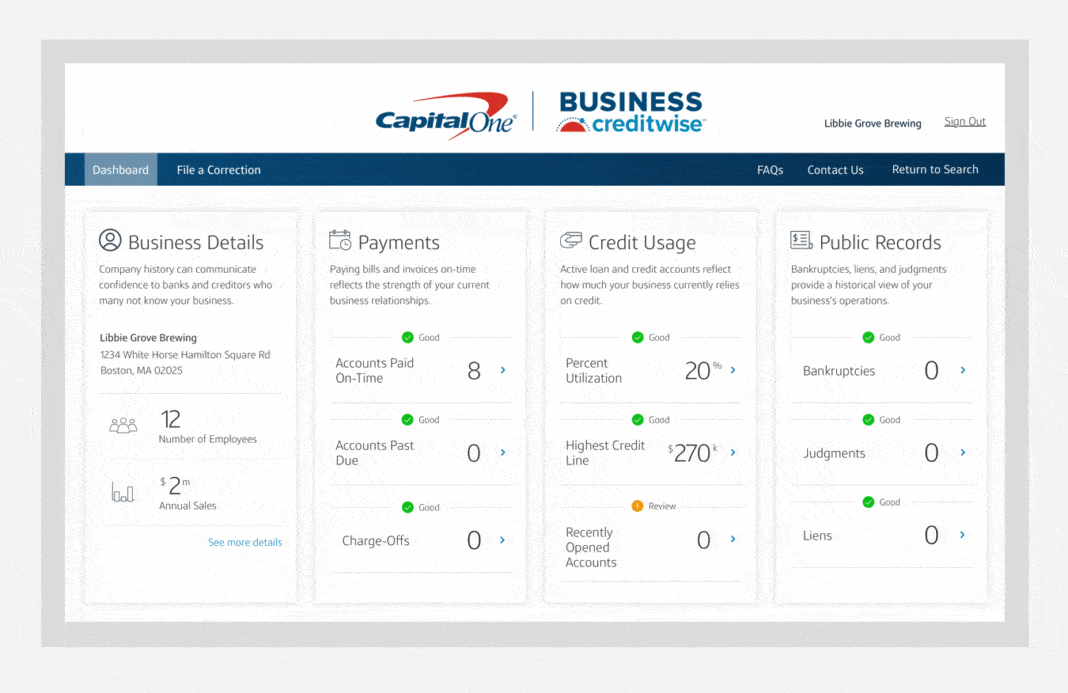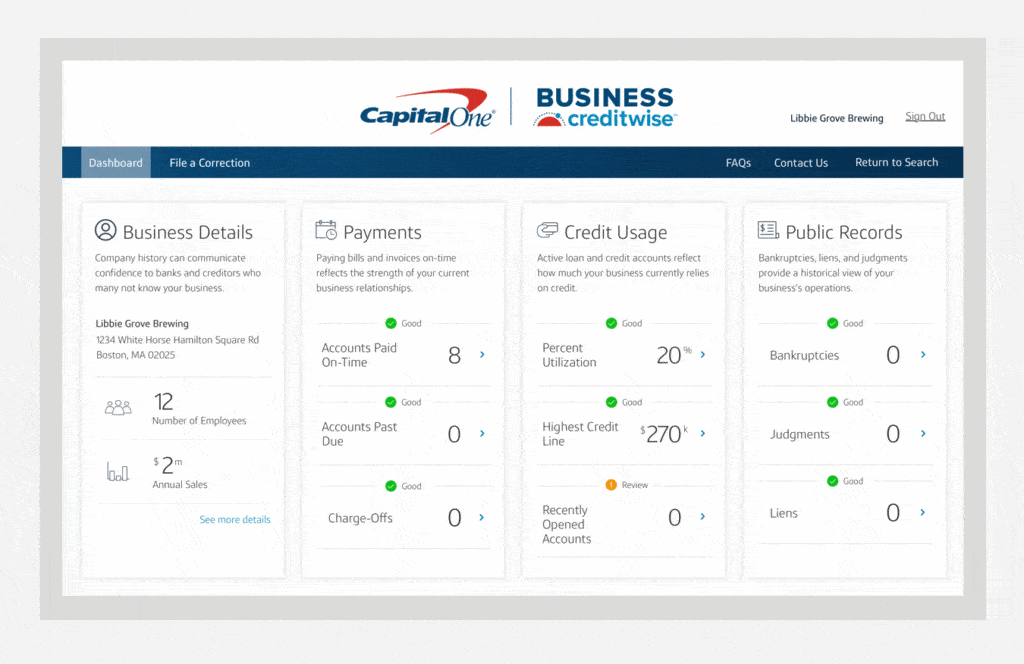 Business Banking
Capital One's business banking services are ideal for smaller businesses.
There are small business credit cards for several purposes. For example, if you fly a lot, there is a rewards card that offers you double miles for all purchases. There is a card that offers 1.5% cash back and another that offers 2% cash back. None of the cards come with annual fees, and they each have their own structured benefits.
There are also several business checking options:
There is a basic business checking account. It comes with a monthly service fee of $15. However, you can waive it if you maintain a balance of at least $2,000. Since there is a deposit limit of $5,000, it is best for businesses that are just starting. After that $5,000, there is a $1 fee for every $1,000 that you deposit. One feature that customers like is the free overdraft protection that they get if they link a deposit account.
Another checking option for larger or growing businesses is the Spark Unlimited Checking account. As the name implies, there are no cash deposit fees or limits. If you can maintain a balance of $25,000 or higher, you qualify for a monthly service fee waiver. Otherwise, the monthly fee is $35. As it is with the basic account, you receive free overdraft protection if you link a small business deposit account.
There is also a Spark Business Savings account. In keeping with its reputation for no fees or minimum deposits, Capital One does not require a minimum deposit or charge fees for this business savings account. It comes with a 2.00% APY. The only potential drawback to this advantage-packed account is if you need to make multiple withdrawals. You are limited to six per month. If you make more, you are charged $10 each time. For Spark checking and savings support, Capital One has a dedicated support line that is staffed each weekday between 9 a.m. and 8 p.m. Eastern time.
Capital One Customer Service
As it showed with its opening of cafe locations, Capital One likes to offer personalized service. Capital One's policy is to provide people with more people to talk to instead of automated systems. Although some customers do not report positive experiences, most are satisfied with the level of quality and customization that they receive when they call or submit an electronic inquiry.
Customers who do not have the time to call or visit a branch can use the live chat feature. If you have an online account, you can log in to access live chat. Most customers rate their live chat experiences highly for efficiency and the ability of the representative to solve most basic issues. If you have a complex matter, it may take longer to solve and may involve multiple communications. Although not all matters are responded to promptly on social media, some customers reported getting good customer service directions through Facebook messages.
Pros of Banking With Capital One
Whether Capital One offers you more advantages or disadvantages as an individual depends on your specific needs. These are the top advantages of choosing the institution:
The extensive online services limit the need for in-person visits.

There are more credit card choices than most other banks.

Most checking and savings accounts do not have fees.

Extensive mobile banking options are backed by high-level security features.

Credit cards and bank accounts can be managed easily online.

Aside from Spark accounts, customer service is available 24/7 for Capital One customers.

With the addition of Allpoint ATMs, there is an extensive list of no-fee ATM locations across the country.

Overdraft protection policies are available for fees with some accounts and by linking qualified accounts on others.

Cons of Banking With Capital One
Although Capital One strives for excellence in all areas, its presence is smaller than some of the other global financial giants, and that creates some potential disadvantages. These are the main cons:
There are limited branch locations, and most facilities are in big cities.

The checking and savings options are not as extensive as the credit card choices.

Interest rates are not as high as some competitors' rates for some interest-earning accounts.

Capital One 360 Checking account holders cannot complete international wire transfers.

Overdraft charges can be higher than average.

Capital One's Competitors
If you are trying to make a decision about which major bank to work with, there are other options. The right choice will depend on your needs. For example, you may want a bank with a higher APY for checking or savings. If you make a lot of deposits and are busy, you may want a bank with a higher mobile deposit limit. This is a brief summary of Capital One's top competitors.
Chase
Although Chase offers credit cards of its own with no-interest periods and cash bonuses, Capital One has more options. Also, its introductory periods tend to be longer, and the transfer fees are lower in most cases. Chase has a much wider network of branches and has plenty of ATMs across the country. It also offers mobile check deposits with generous limits and online account management. However, most of its checking accounts come with fees that can only be waived by maintaining a minimum balance.
Citibank
Citibank gives its customers access to an impressive 60,000 fee-free ATMs across the country. It works with ATMs in rural areas as well, which gives it an advantage over Capital One in smaller towns. However, Citibank's accounts come with higher fees. Both banks offer 24/7 customer service.
Wells Fargo
Wells Fargo has more than eight times as many branches as Capital One. However, it gives customers access to a limited number of fee-free ATMs, which means that Capital One has an advantage in terms of ATM access. Like Capital One, Wells Fargo offers multiple savings account options.
U.S. Bank
Both Capital One and U.S. Bank have 24/7 customer service. Although it has limited ATMs for making deposits, customers can deposit checks through its mobile app. Capital One has an advantage over it in checking account features. U.S. Bank has a minimum deposit requirement and a monthly service fee.
HSBC
Capital One's biggest advantage over HSBC is its extensive ATM network. Also, it has more branch locations. However, HSBC shines in its savings account options. It only requires $1 as a minimum deposit and gives customers an APY that exceeds 2.00%.
Bank of America
Bank of America has well over 4,500 branch locations, which is much more extensive than Capital One's reach. However, Capital One gives customers more access to ATMs. Also, Bank of America charges account fees that can be hard to waive regularly, and Capital One does not charge monthly maintenance fees.
Bottom Line
Capital One is a good choice if you need to visit bank branches for customized service and live in a city where there are branches or cafes. It is also a good choice if you prefer to do everything online and have limited mobile check deposit needs. Since Capital One works with Allpoint, it is a good choice for anyone who needs to use an ATM regularly without being charged. If you are someone who does not like monthly fees, minimum balance requirements and minimum deposit requirements, Capital One is a great choice. It is also a good choice if you need a credit card for traveling, dining, grocery shopping or balance transfers.